The Waiting Game: How Long Does It Take To Sell a House in the East Bay?
The Waiting Game: How Long Does It Take To Sell a House in the East Bay?
Jump to:
One of the most common questions homeowners ask us is, "How long does it take to sell a house?"
We wish there was a single, easy answer to help us set seller expectations. But in reality, the answer depends on where you live.
Across the U.S. in August, the median number of days it took for a home to sell was 25. In the San Francisco Bay Area, it took 18 days to sell a house, according to Redfin.
Being the number nerds we are, we dove even deeper into local data to tease out East Bay stats. Here's what we found:
How long does it take to sell a house in Alameda and Contra Costa counties?
If you were selling a home in Albany in August, you barely had time to pack! Detached single-family houses sat on the market for just 12 days on average. Meanwhile, Castro Valley home sellers weren't so lucky and waited 32 days.
How long does it take to sell a condo in Alameda and Contra Costa counties?
Condos and townhomes typically take longer to sell, as you can see in the following graph.
7 factors that impact how long it takes to sell a house or condo
Knowing current market trends certainly can help you anticipate the speed of your sale. And here are seven other factors that can impact the length of your real estate journey:
1. Location, location, location
Neighborhood location plays a crucial role in determining how quickly a home will sell. Is it near a noisy freeway or a quiet park? Close to good schools? Is public transit easily accessible? Is it pedestrian-friendly with popular shops and restaurants nearby? Homes in highly sought-after neighborhoods go fast – often faster than the median number of days we've listed here.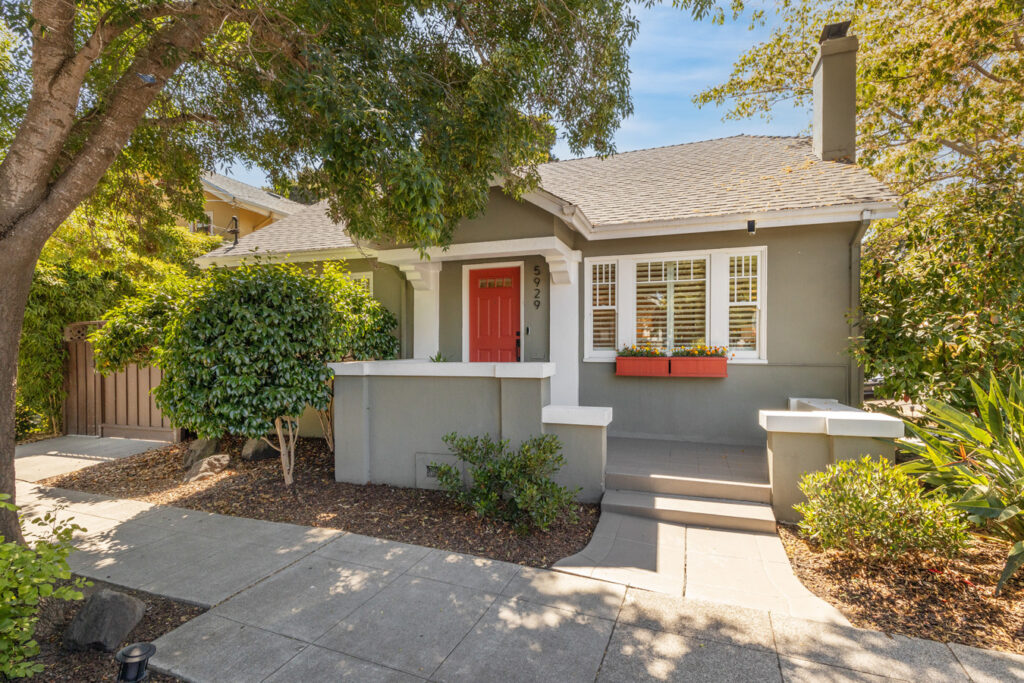 2. Inventory
In hot real estate markets where demand is high and inventory is low, homes tend to sell faster and for over the asking price. Conversely, in slower markets with fewer buyers, it may take longer to sell. Guess which kind of market we've got here in the Bay Area? (Our regular readers certainly know!)
3. Property condition
A well-maintained, move-in-ready property will attract more buyers and sell faster than one in need of extensive repairs or renovations. Before listing your home, consider making necessary repairs and improvements to increase its market appeal. Ask your real estate agent about which updates will net you best return on investment. From experience, we know that updated kitchens and bathrooms often result in bigger wins.
Also seriously consider staging. A home that is emptied of personal belongings and tastefully staged tends to sell faster and for more in our market. It's well worth the upfront cost.
Need help with pre-sale prep and renovations? See if a program like Abio Advantage makes sense for you. Abio Advantage is powered by Freemodel and can include capital, design, project management, moving, junk removal, staging, and more. Homeowners pay out of escrow when their property sells.
4. Pricing strategy
Pricing your home competitively is essential for a quick sale. Overpricing can scare off potential buyers, while underpricing may leave you with less profit. Collaborate with your agent to determine the optimal asking price based on a comparative market analysis. A correctly priced home is more likely to attract serious buyers.
5. Marketing and exposure
Effective marketing can significantly impact the speed of your home sale. Skilled real estate agents (like Abio's!) use multiple marketing channels such as online listings and social media, professional photography, video, virtual tours, and open houses to showcase a property for a wide audience. The best marketing strategies sell a lifestyle, not just the structure.
6. Economic factors
Economic conditions can influence the real estate market's pace. In the last year or so, we've seen rising interest rates, inflation and Silicon Valley layoffs slow buyers down.
7. Seasonality
Weather, holidays, summer vacations, tax season, and the start of the school year all can curb buyer interest and speed. The slowest month to sell a house in the U.S. is typically December. However, here in the Bay Area seasonal slowdowns haven't been too noticeable during the past few years. Housing inventory is so low, that buyers are always on the hunt.
Remember that patience and flexibility are key during the selling process. Ultimately, a well-informed and proactive approach will help you navigate the waiting game.
---
If you are still wondering about how long it will take to sell your house or condo, reach out to us. We can provide sales comps for your specific neighborhood, including how many days homes sat on the market before selling. 888-400-ABIO (2246) or hello@abioproperties.com.
If you liked this post, try these: