15 Can't-Miss Staging Tips
15 Can't-Miss Staging Tips
We already told you why you should stage your home for sale. (Because first impressions are everything!) Now we'll share the staging tips that will give you a competitive edge.
After years of representing sellers in the fast-paced East Bay real estate market, our Abio Properties agents have learned that stylish staging improves the number of offers a property receives, lowers the number of days it stays on the market and boosts the final sales price – as much as 10% over the asking price.
Hiring a professional stager can provide a great return on investment. But it's not always possible. If you are a DIY-er, consider these essential home staging tips:
Know your target buyers and prep your home to attract them. Abio Realtor Elisabeth Watson explains that any agent worth her salt can advise you about your target demographic (millennials, newlyweds, young family, empty-nesters, etc.) and how to style your home to suit their aspirational lifestyle and design aesthetic.
Know which rooms are most important to your bottom line. According to a National Association of Realtors survey of its members, the most critical spot to stage is the living room, followed by the kitchen, the master bedroom, dining room, bathroom, children's bedroom, and guest bedroom, in that order.
Calculate your curb appeal. Improve first impressions by adding easy-to-read house numbers; power washing the siding, porch, and walkways; cleaning the windows; and adding blooming flowers.
Refresh rooms with neutral paint colors. We know how much you love that red dining room wall, but it might turn off potential homebuyers. Appeal to broad tastes with whites, creams, and light grays.
Declutter and depersonalize. Pack up photographs, knick-knacks, toys, most of the books on your shelves, most of your kitchen cabinets, pantry and bedroom closet items, pet supplies, tools, and more. You might need to remove up to half your furniture so potential buyers can envision the actual size of your place.
Now add some back. A few artfully arranged books and decorative items will make your built-in bookshelves pop.  A pretty set of matching dishes shows off your kitchen cabinets. In the pantry, leave a few things in decorative baskets or display a few jars of gourmet spices. Three is the magic number for grouping decorative items when you stage your home.
Make magic in the living room. Most home tours start here, so draw a potential buyer's eye through the space by using splashes of color on neutral backgrounds. Professional stager Jeffrey Himmel, who has artfully filled many East Bay homes with Pauline Pearsall Staging, says he chooses rugs, artwork, and pillows in complimentary colors (think navy blue and orange, from opposite sides of the color wheel). Jeffrey also consults Pantone for the trending color, which for 2020 is Classic Blue. Also, arrange furniture in conversational groups and away from the walls.
The kitchen is the heart of the home. Help buyers see themselves in this clean, bright space by strategically placing a vase of flowers or a pretty bowl of lemons on a counter.
Set the table. Create an attractive focal point in the dining room and help buyers envision entertaining there. But don't overdo it with big centerpieces or the full china and crystal goblet layout.
Light it up. Open windows and shades. Invest in updated lighting.
Give each room a purpose: Bedroom, nursery, office, rumpus room, etc. Consider what demographic of homebuyer is shopping in your neighborhood and stage accordingly.
De-flower the master bedroom. Nix those floral prints and go for gender-neutral décor in calming colors. Clear odds and ends off bedside tables and replace with a curated stack of books, a small plant or fresh flowers. Add light with a mirror, ideally positioned to reflect a window. Hang a few pieces of art on the wall, like sophisticated black and white prints or photos.
Clear out closets. Or stage them with a few neutral items to show off all that space. Storage sells!
Stage the outdoors for a leisurely lifestyle with items like a hammock, outdoor sofa, fire pit, cute café table for a small patio or croquet set for a grassy lawn. Don't forget to stage front porches and bedroom balconies as usable spaces so potential buyers can envision themselves there sipping their morning coffee or relaxing with a good book.
Finish with photos. Jeffrey recommends that home sellers who live in their staged home between showings should snap photos so they know exactly how to remake their staged bed, where to toss the throw pillows, and where the pair of wine glasses were staged on the kitchen counter.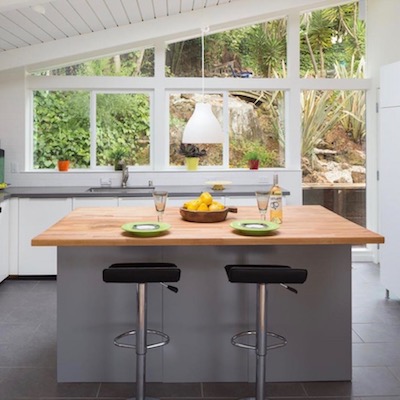 --
Consult with our Abio Properties agents to get their honest assessment of your DIY staging style. Call us at 888-400-ABIO (2246) or email at hello@abioproperties.com.