Mid-Century Modern Masterpieces Draw Fans to the East Bay
Mid-Century Modern Masterpieces Draw Fans to the East Bay
We had the pleasure of hosting a mid-century modern home tour in Oakland recently for members of Docomomo, an international nonprofit organization dedicated to preserving modernist architecture.
Historians, architects, and admirers came from around the Bay Area to see our listing at 6624 Saroni Drive, a mid-century modern masterpiece designed by renowned Case Study architect Beverley "David" Thorne.
Thorne was the last living contributor to the Case Study Houses program, a series of ground-breaking designs commissioned by Art & Architecture magazine between the 1940s and 1960s.
Case Study architects and other celebrated modernists had a strong presence in the Bay Area, where the movement focused on casual living, functionality, and embracing an indoor/outdoor lifestyle through design.
The post-war movement was grounded in the idea that homes could be innovative and stylish while also inexpensive to construct. Joseph Eichler's designs are probably the most iconic homes of this era.
Suspended in air
The hillside Saroni house, which features Thorne's signature "steel and glass" frame, flat roof, and a cantilevered deck, is one of several mid-century moderns represented by Abio agents over the years.
"Abio Properties has been proud to represent sellers who are dedicated to preserving the original architectural integrity of homes," said Linnette Edwards, Abio co-founder and Saroni listing agent.
During our tour, late-morning light poured in through floor-to-ceiling windows that framed evergreen views of pines and other trees.
The place oozed a Don Draper vibe – the only thing missing was martinis!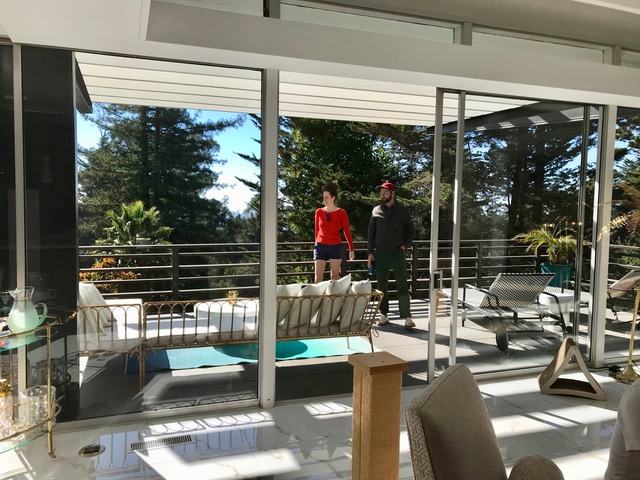 The home's top level is bright and white, with a wide-open floor plan, exposed concrete beams, clerestory windows, and a centerpiece "floating" fireplace. The floor opens onto an expansive deck overlooking a terraced garden.
Owner/seller Tara Sims bought Saroni Drive about two years ago, and it's her second mid-century modern project in the East Bay. She previously owned a Piedmont home on Calvert Court designed by Case Study architect Edward Killingsworth.
Contemporary renovations, "Mad Men"-era details
Tara described how she meticulously updated Saroni while embracing all the period details.
"When I bought this house, I thought the steel frame exterior was awesome, but the inside was a hot mess," she told the group. "I wanted to bring it to what I thought it was screaming to look like."
She updated the kitchen, replaced cork floors with white porcelain tile, installed custom floor-to-ceiling doors with period hardware, hung Jonathan Adler light fixtures (think sputnik style), and renovated the master suite with imported wallpaper and specialty tile and grout from Spain for the master bath. The renovation also included new electrical, plumbing, insulation, and more. She tiered the back garden and added a bocce ball court.
Bev "David" Thorne (1924-2017)
Thorne, a Piedmont native, designed the Saroni house in 1959 for Kay and Edward Baldinelli, a structural engineer and founder of Baldinelli Vineyards in Amador County. Mr. Baldinelli admired Frank Lloyd Wright's designs and was wowed by another local house Thorne designed for neighbor and jazz legend Dave Brubeck.
The Brubeck property at 6630 Heartwood Drive – nicknamed "House in the Sky" – is probably Thorne's most famous because Brubeck was often photographed and filmed there.
Joining our tour was Cord Struckmann, the owner of Thorne's "Case Study House No. 26" located in San Rafael. Cord said he was excited for the opportunity to explore another Thorne home.
Cord and his partner Alfonso bought Case Study House No. 26 in 2015.
Just prior to the sale, Thorne, who had been living in Hawaii to escape the fame that came with success, returned to see his masterpiece for the first time since its construction in 1963.
Thorne's initial words were: "Why are all the walls still in the same place? Nothing has changed here!" according to Cord's website documenting the house's history.
Not all of Thorne's properties were so lovingly preserved or restored.
23 Sequoyah View Drive near Oakland's Sequoyah Country Club was a sensation when it was built in 1957. As a publicity stunt, a helicopter landed on the roof, and the house remained open for tours for months after.
But it's been on the market for about three years now, and listing photos show its deterioration is probably why. It is priced at $750,000, and a short sale is currently pending.
Behind the mid-century mod resurgence
The rediscovery of mid-century modern style in architecture, furniture, products, graphic design, and urban development started in the 1980s, when the movement was suddenly celebrated anew with design books and art museums exhibits.
Popularity soared, and today we have "Mad Men" on TV and Design Within Reach furniture chain stores.
And, of course, there's high demand for mid-century modern residences.
Abio Realtors Krista Miller and Rosie Papazian listed a Japanese-inspired mid-century modern at 5900 Ostrander Road in Rockridge last year for $1,625,000, and it sold for $1,875,000.
Agent Tomi Thomas of Abio represented 1028 Overlook Road,  a unique "mid-century-Tahoe-Japanesque blend" in Berkeley. It was listed for $899,000 and sold for $1,150,000 in 2017.
Linnette represented a breath-taking home at 10 Atlas Place in the Berkeley Hills that was built in 1940 and remodeled by famed architect John Hans Ostwald. Listed at $1,885,000, it sold for $2.7 million in 2016.
Calls for preservation
Efforts to preserve the remaining mid-century mods include the Orinda City Council's move last spring to approve historic landmark status for a 1951 home designed by legendary architect Richard Neutra. The house on Miner Road is one of 13 Neutra buildings left in the Bay Area.
Groups like Docomomo help keep preservation in the forefront by touring, documenting, and advocating for buildings, sites, and neighborhoods of the modern movement, said Northern California chapter member Hannah Simonson, an architectural historian.
The chapter recently toured other Case Study homes and led modernist walking tours of Lake Merritt, BART stations, and San Francisco's Chinatown.
Groovy or gross?
Despite all this reignited interest, some mid-century architectural hallmarks are not universally loved. For example, there's a hot debate over whether sunken conversation areas are super groovy or just plain hazardous.
Abio Realtor Tracy Butler is representing such a home at 6155 Westover in Oakland, where a built-in pit with a fireplace is proving both a draw and a hinderance for some potential buyers. (You can read more about it in this SFGate article.)
Our Saroni home seller, Tara,  soon will be shopping around for another mid-century modern, this time somewhere on the Peninsula and closer to her work. Let us know if you have one!
To learn more about Thorne and his design on Saroni Drive, go to www.6624saroni.com.
To learn more about the Northern California chapter of Docomomo, go to www.docomomo-noca.org.
--
Abio Properties is a boutique real estate agency with offices in Oakland and Lafayette, and we specialize in making buying and selling a home in the East Bay easy. Our name (ah-bee-oh!) is inspired by the Spanish word for open, abierto, because that's our founding principle. We're open, honest, and expert. Contact us to learn more at 888-400-ABIO (2246) or hello@abioproperties.com.