Market Report: Myth-Busting for Home Sellers and Buyers
Market Report: Myth-Busting for Home Sellers and Buyers
You've probably seen the headlines about "plunging" housing prices, warning signs of a housing "bust," and how recent layoff announcements have led to "collapsing" sales.
If you're considering listing a home for sale today, these market reports are probably giving you pause, right? You're not alone.
Here in the East Bay, we're noticing that headlines are scaring off would-be home sellers and giving buyers unrealistic expectations about their bargaining power. The problem with these reports is they often reflect national, statewide, or Bay Area-wide data – and not the East Bay's unique market micro-climate.
It's time to bust some myths and misconceptions with our boots-on-the-ground, IRL (in-real-life) real estate experiences in Alameda and Contra Costa counties. Starting with this hard fact:
The East Bay housing market is still a seller's market.
Why? Because buyers far outnumber the homes for sale. Imagine, only 19 homes listed for sale in January in Alameda, a city of 76,000 people! Lafayette also saw just 19 homes listed for sale last month, which probably fueled the recent flurry of interest in a one-story rancher near busy Hwy 24 that drew more than 100 people to its open houses, attracted multiple offers, and went into contract with a buyer in eight days! The list price was $1.795 million, and you can bet the yet-to-be-disclosed sales price is more.
As long as there's pent-up demand for property, the East Bay will remain busy with buyers who are willing and able to pay, even with higher interest rates.
Let's dig deeper into the headlines...
Headline: The average home in the San Francisco metro area is selling for below asking price for the first time since early 2012.
Our experience: This is true-ish for the East Bay. In Alameda and Contra Costa counties, the sale-to-list percentage is about 99.7%, meaning homes mostly sell at asking price or slightly under. This was practically unheard of in 2021 and early 2022 when buyers bid waaaay over the list price.
However, there are several East Bay cities where detached single-family homes sold for 1%-7% over the asking price in January:
Berkeley, 7% over
El Cerrito, 6%
Oakland, 3%
San Pablo, 3%
San Leandro, 1%
Pleasant Hill, 1%
Walnut Creek, 1%
Headline: Buyers have more negotiating leverage in 2023.
Our experience: When East Bay buyers hear news of "plunging" prices, they assume they have much more bargaining power than they actually do. It's true you can probably pay less for a house than a year ago, but your haggling leverage is limited. As long as housing inventory is low, your at-asking-price offer with contingency demands will lose to a competing bidder offering more money and better conditions.
Headline: Falling Bay Area home prices are expected to keep tumbling amid high interest rates.
Our experience: Median prices on detached single-family homes dropped from January 2022 to January 2023 in most East Bay cities we track. Notably: El Cerrito (31% year-over-year decrease to $930,000) and Alameda (20% decrease to $1.2 million). El Sobrante was an outlier where the median sales price increased by 7% to $730,000.
Worried that if you sell today you'd be losing money? We regularly remind our sellers that although home prices are declining, they remain higher than they were five years ago.
Also, as we mentioned in our 2023 market predictions report, interest rates are expected to ease noticeably by Q3 and Q4. When those rates drop and inflation cools, more people will return to the market with better buying power, and home prices could rise as a result.
Headline: Frustrated sellers are pulling properties off the market because they take too long to sell.
Our experience: While it is true the average time a home sits on the market has doubled (or tripled in some cases) year-over-year, we have yet to see heaps of impatient sellers pull out because of this.
Today's sellers missed out on the heady days of two-week sales that we saw during the pandemic. As of January, the pace is more like 30-50 days. But, considering that the statewide average is 72 days in California, sales in the East Bay remain relatively speedy.
Headline: The condo market is struggling.
Our experience: We saw mixed market success for condo sellers in January.
In Alameda, the median sales price rose 14% year-over-year to $965,866.
In Berkeley, the median climbed 9% to $676,000.
In Oakland, the price dropped 19% to $580,000.
Contra Costa County condos fared worse. Walnut Creek condos saw a 7% median sales price decrease to $525,000.
The median price in Richmond dropped 10% to $531,000.
For first-time buyers, the condo market continues to provide the most opportunity.
The X Factor: Job Cuts
We have yet to see how the latest wave of Big Tech layoffs will affect the housing market. Negative consequences could include fewer prospective homebuyers who can afford a new home. We might also see more homes hit the market as laid-off workers relocate for their next job. Stay tuned.
See how YOUR city's real estate market performed in January:
The following graphs refer to detached single-family homes. Sources: Bay East Association of Realtors and Contra Costa Association of Realtors.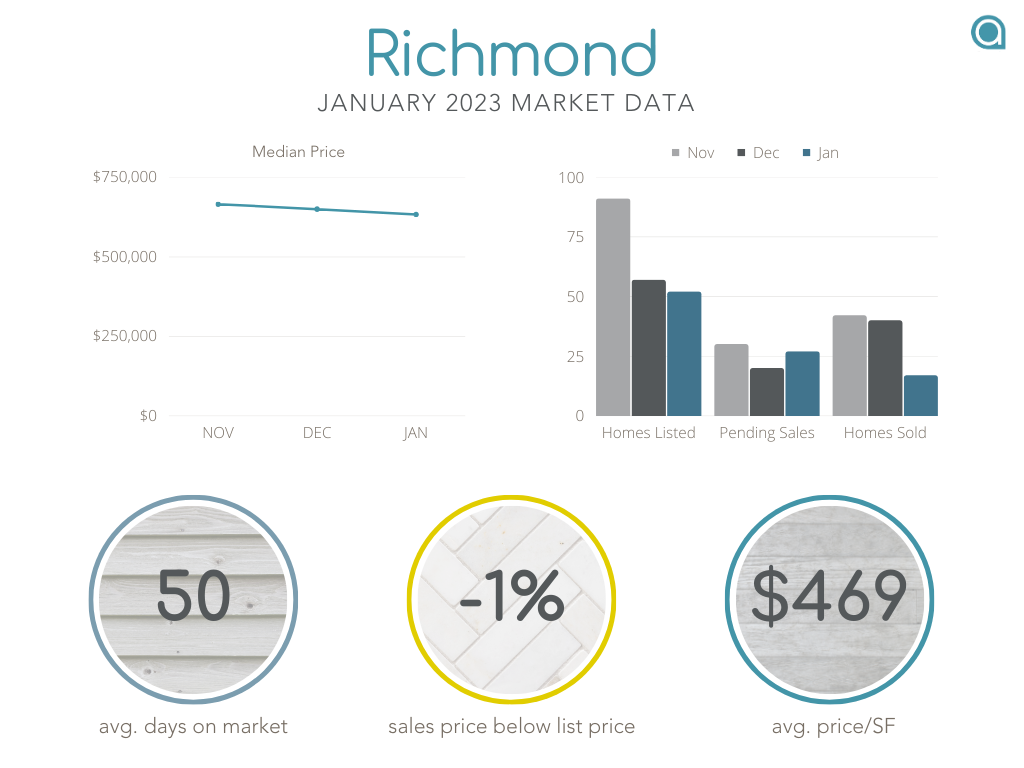 ---
Don't see your city of interest here? Get in touch, and we'll dig up those numbers for you. 888-400-ABIO (2246) or hello@abioproperties.com.
If you liked this post, try these: