2022 in Review: Housing Market Reality Check
2022 in Review: Housing Market Reality Check
With a market correction, we learned that reality bites. But it was for our own good.
If the East Bay housing market was a rowdy student, it got its knuckles rapped with a ruler in 2022.
The market needed reining in, we know that. But it still stings a bit as we reflect on that weird year in residential surreal estate.
The 2022 correction came after an overheated 2021 when home prices soared, bidding wars were epic, and historically low interest rates signaled party time for sellers who had their pick of qualified homebuyers. The median sales price for a single-family detached home in the East Bay jumped 23%, hitting $1.15 million. Homes everywhere were selling fast – sometimes 10 days or less – and for over the asking price.
We carried on like this through the first quarter of 2022. Then came the splash of cold water: interest rate hikes, inflation, and recession talk.
Bummer for the many hopeful buyers who lost financial power and had to step away from the market. They were tired, anyway. Tired of being outpriced and outbid for over a year.
Bummer for the homeowners who worried they missed their opportunity to sell during a market high. For the first time in more than a decade, the median sales price for a single-family detached home dropped for more than six consecutive months, according to the Bay East Association of Realtors.
How the year closed out: Good news with the bad
By year's end, it was clear that the market was correcting and returning to normal-ish (as normal as Bay Area real estate can be). Here's how the year closed out in December:
Home prices dropped year-over-year in nearly all the cities we track. (Alameda was an outlier; the median sales price there increased 3%.)
Yet home prices remained far higher than five years prior. That's good news! Just look at Oakland, where the median sales price for a detached single-family home was $665,500 in 2018 and $850,000 last month. Richmond's median was $470,000 in 2018 and $650,000 last month. Walnut Creek's median was about $1.1 million in 2018 and $1.4 million last month. We could go on, but you get the idea.
The sellers' market turned in the buyers' favor. Buyers with staying power faced less competition, fewer bidding wars, and could be pickier about things like inspection reports and contingencies.
Which is why fewer homes sold for over the asking price. What a difference from early 2022! In Lafayette, for example, the year started with an average home selling 15% over the original list price. By December, homes there sold 2% below list price on average.
Sellers still benefited from the historically low housing supply. Even though the market cooled, the number of interested buyers continued to far outnumber properties for sale. Homes may not have sold as fast as the first quarter of 2022 or received hugely inflated bids. But they did sell, often after attracting multiple bids, and often resulting in profit for home sellers.
What will 2023 bring for the East Bay housing market?
The most common questions we get as real estate agents are, "Should we sell in 2023?" "Should we buy in 2023?" Well, at a recent all-hands Abio "Say Hey" meeting, we looked into our crystal ball, consulted with one of our fav mortgage experts, and made some pretty heady predictions. Stay tuned for our 2023 forecast. We think you're going to like it!
We've got graphs!
While you're waiting for our predictions, see how the 2022 trends played out in four of the region's most popular markets: Berkeley, Oakland, Lafayette, and Walnut Creek:
See how YOUR city's real estate market performed in December:
The following graphs refer to detached single-family homes. Sources: Bay East Assoc. of Realtors and Contra Costa Assoc. of Realtors.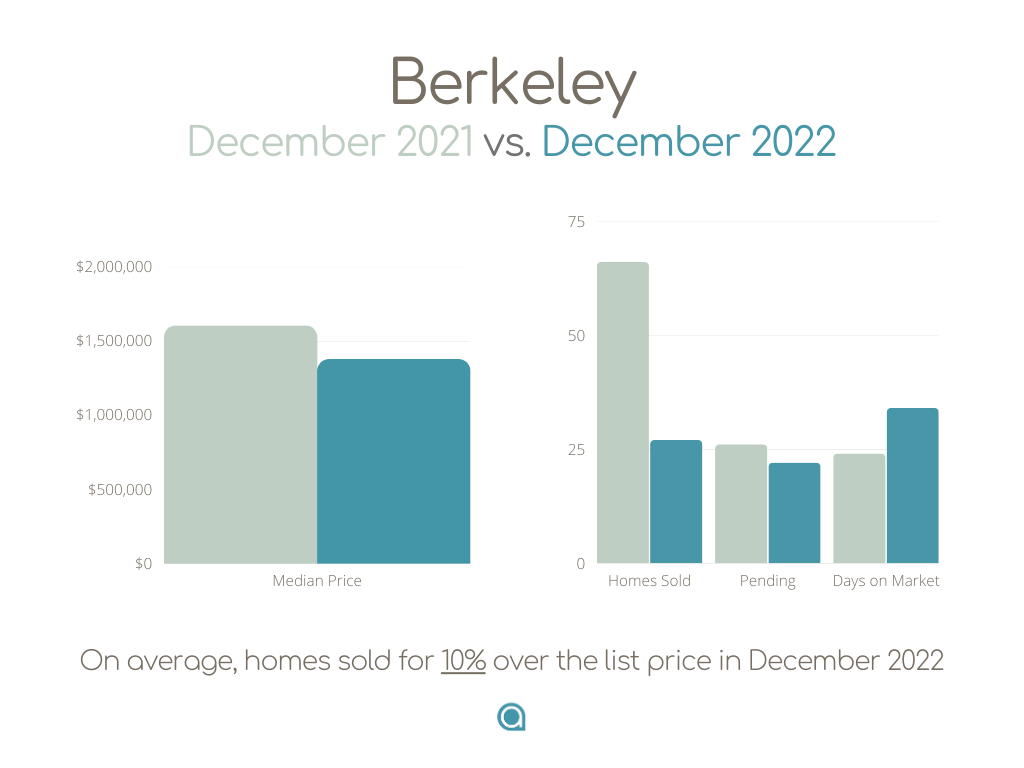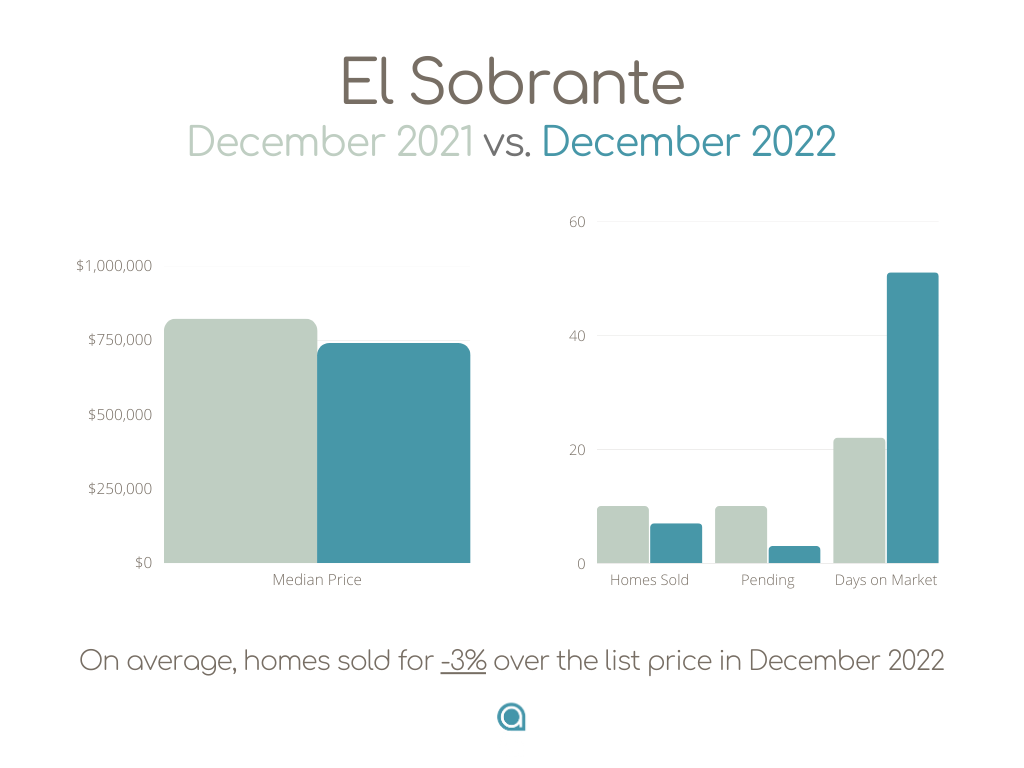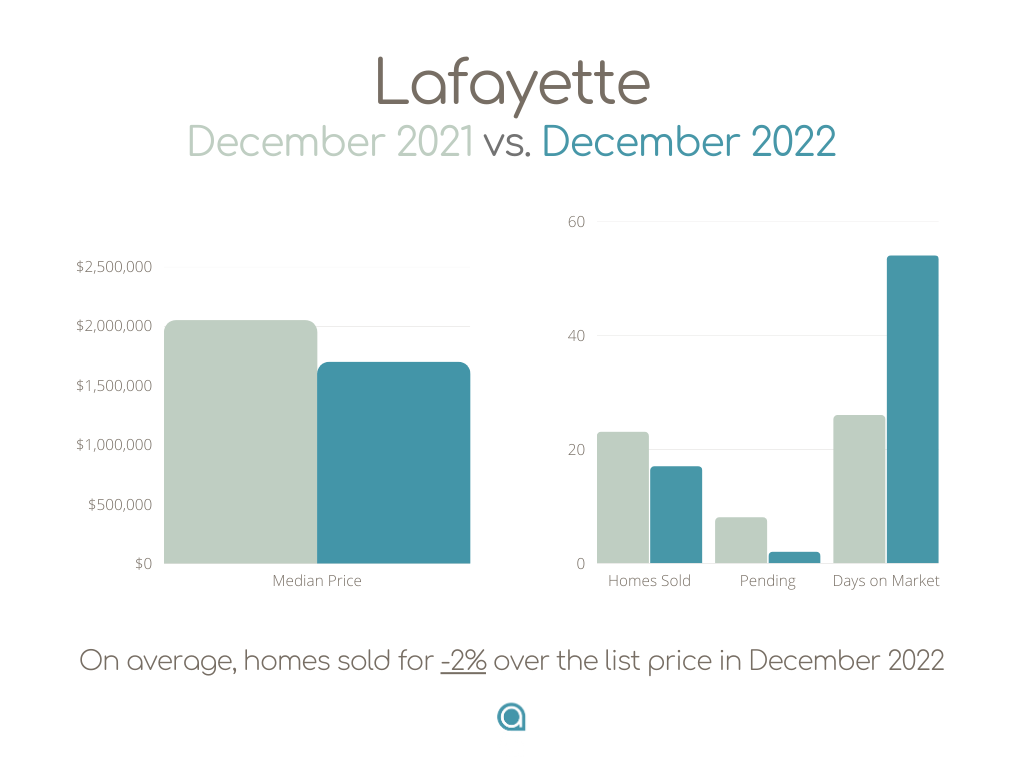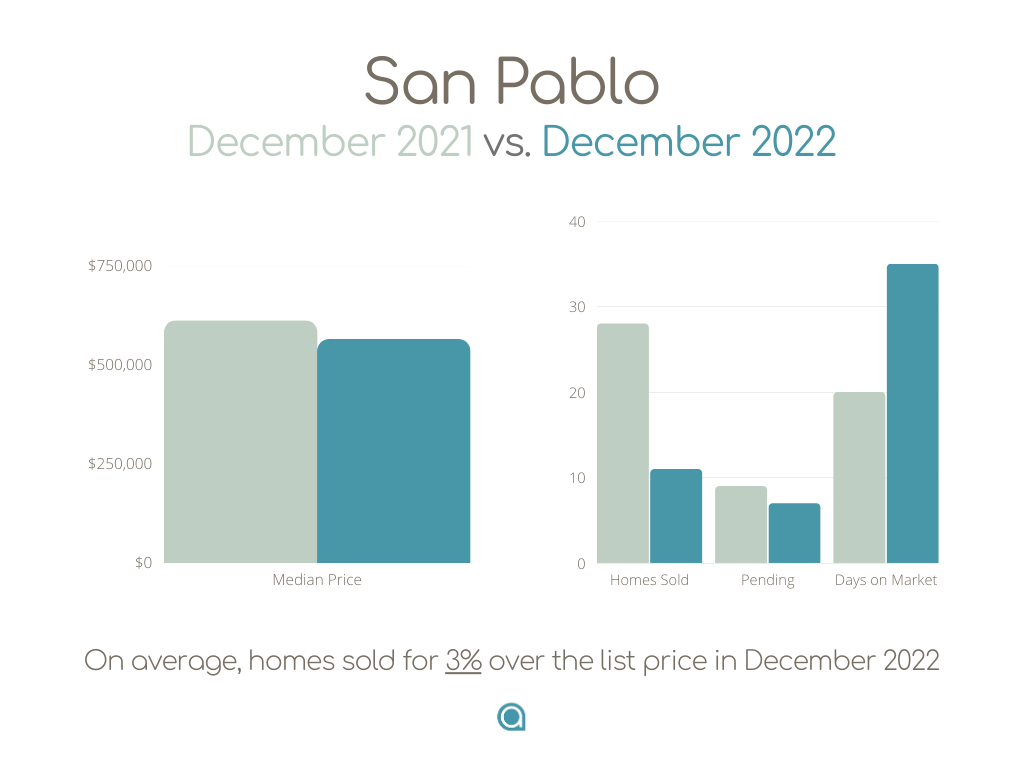 Don't see your city of interest here? Get in touch, and we'll dig up those numbers for you. 888-400-ABIO (2246) or hello@abioproperties.com.