Abio Properties Welcomes New Agents to Our Real Estate Family!
Abio Properties Welcomes New Agents to Our Real Estate Family!
If you've been following us on social media lately, you know Abio Properties has some BIG news to announce. Drumroll please…
The Abio family has grown by 13 agents – a brilliant baker's dozen! – so we can support even more home buyers' and sellers' dreams and guide them through the East Bay's exciting real estate market.
As one of the East Bay's fastest-growing boutique brokerages, Abio Properties is thrilled to introduce these skilled agents. They include industry veterans, problem solvers, straight shooters, determined negotiators, strong believers in concierge service, and local experts in Alameda County, Contra Costa County, Tahoe, San Francisco, and beyond.
Introducing…
REALTOR®
Bay Area native Cydni Delgado is intimately familiar with Contra Costa and Solano counties and uses her extensive market knowledge to help first-time and returning buyers find the perfect place to settle. For Cydni, who was licensed in 2014, nothing surpasses the thrill of handing the keys to the new owners of a beautiful house. Before pursuing her passion for real estate, her career as an administrator instilled in her the drive to provide the highest level of service with honesty, integrity, and kindness.
Hometown: Martinez for the last 14 years.
When she's not real-estate-ing: Hiking at Mt. Tamalpais or Lafayette Reservoir.
Why she came home to Abio Properties: "The culture. We have a great work family that I am happy to be a part of!"
REALTOR®
Growing up in San Francisco, Jennifer Marchand's father's home was always the place to be. She inherited his artistic eye for design and décor and his keen sense of how to create a dream home out of any property. With over 25 years in sales and licensed in real estate since 2019, she has learned to pay attention to what people really want and can afford. She brings to the table a vision that blends those two together to transform "what is" into "what is possible." Jennifer is also a mom to a beautiful 10-year-old daughter and a zookeeper of their four-legged family members. Family, home, and hearth are what fill her spirit.
Hometown: Alameda
Favorite East Bay hangout: Bellanico restaurant and wine bar in Oakland
Why she came home to Abio Properties: "Abio's founding brokers are very transparent, and I love that the Abio team is diverse and has a collective mentality. Before joining Abio, while working for another real estate company, I had met several Abio agents and always found them very helpful and pleasant to work with. Joining Abio was a no-brainer!"
REALTOR®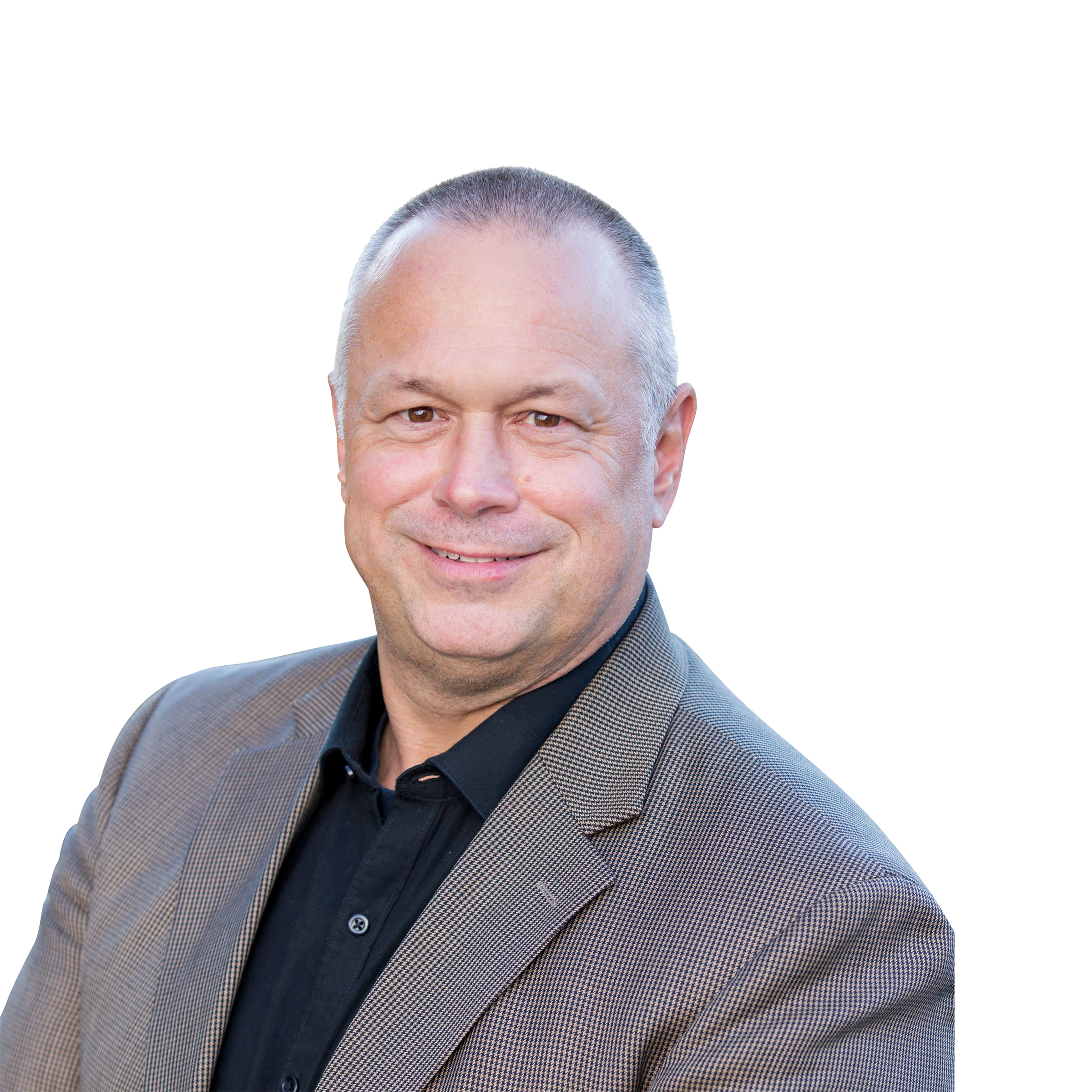 Ken Brown, who has lived in Contra Costa County for nearly two decades, joins Abio Properties after a rich and diverse career path that always involved serving people. After graduating from college with a degree in business and a concentration in finance, Ken spent two years working with Household Financial Services in Chesapeake, Virginia. Much of his focus was debt counseling and helping families properly budget to meet their goals. Through volunteering with local middle and high school students, Ken felt the pull toward pastoral ministry. After completing a Masters of Divinity in 1997, Ken spent the better part of 17 years in pastoral ministry in Virginia and here in the Bay Area. Ken has also worked with Contra Costa Christian School teaching ethics and comparative religions, serving as the high school athletic director and coaching, and serving as the director of community relations. Ken has been working in real estate since 2019.
Favorite East Bay hangout: Rocco's Ristorante Pizzeria in Walnut Creek.
When he's not real-estate-ing: Learning Spanish, watching Cal State Monterey Bay women's soccer where his daughter plays, and hiking.
REALTOR®

Terrence "Andy" Kirk is part of the Mariah Bradford Real Estate Team, bringing together two of the hardest working Realtors you will ever see along with decades of combined marketing, negotiation, and contract experience. Andy jumped into real estate in 2021 from being a partner in a law firm.
Hometown: Walnut Creek with four kids, koi pond, 10 chickens, two cats, one cockatiel, and a Great Dane named Daisy.
Favorite East Bay hangout: Dining at the Hideout Kitchen in Lafayette.
Why he came home to Abio Properties: "I had no choice in real estate brokerages – Abio is the best in the East Bay. Whether it is drawing from the expertise of other agents or managing brokers or the wonderful assistance from the transaction coordinators and marketing team, Abio provides a great collaborative workplace which makes 'work' actually fun."
Associate Broker & REALTOR®

Michael Gorelick is a licensed real estate broker in California and Nevada with more than 20 years of market experience. Mike has deep Bay Area roots and a lifelong passion for the East Bay and San Francisco. An identical twin, Michael was raised roaming the once undeveloped hillsides of Oakland with his brother and explored the busy city streets with his father, "Big Al," an attorney and community leader. Mike gives his clients the benefit of having an agent with a vast knowledge of local neighborhoods, market conditions, and an excellent reputation in the community. Though the Bay runs through his blood, Michael adopted Las Vegas as a second home more than two decades ago. Michael brings his unique and diverse experience to buyers and sellers throughout Northern California and Southern Nevada.
REALTOR®

Tobias Riday has been in real estate for two years and is proud to be selling homes in the East Bay where he grew up. As a Berkeley native and long-time Oakland resident, he has a robust understanding of the various nuances of the East Bay neighborhoods. He thrives on sharing East Bay history with all his clients, family, and friends. When not selling or buying homes, Tobias is busy caring for his 5-year-old daughter, baby-on-the-way, and two alpacas.
Hometown: Oakland
Favorite East Bay hangout: Albany Bulb waterfront park
Why he came home to Abio Properties: "The people."
Madison Preston
REALTOR®
Madison Preston has been an agent for nearly 20 years and has developed a niche specializing in pocket communities such as Berkeley Hills, Orinda, Piedmont, and Alamo. Madison also has been an ambassador to Bay Area clients for the Truckee and Lake Tahoe market since 2009. She's not only dedicated to her clients but also giving back to her community by donating time and a portion of her commissions to The Heroic Hearts Project and organizations helping the homeless.
When she's not real estate-ing: You'll find Madison skiing Tahoe's backcountry in the winter or rock climbing after the snow melts.
REALTOR®

Reggie Clark moved to the Bay Area from Los Angeles to study at University of California, Berkeley and has called it his home ever since. Reggie's been a licensed REALTOR® since 2008 and has worked on numerous projects in the East Bay while maintaining a career in hospitality technology sales. When he turned exclusively to real estate, Reggie brought the hospitality approach, anticipating needs and acting proactively to ensure smooth transactions that seem effortless.
Hometown: Oakland
Favorite East Bay hangout: Montclair Golf Course having a drink or meal, hitting the range, and even playing a few holes.
Why he came home to Abio Properties: "Abio's concierge service and open, honest approach match my life philosophy."
Fun fact: You might say real estate is in Reggie's blood. He grew up working in family real estate businesses and performing all the not-so-glamourous behind-the-scenes jobs: placing/washing open house signs, posting foreclosure notices, creating marketing materials and filling out endless documents.
REALTOR®

A proud East Bay native, William Waters was born in Berkeley and raised in the Sequoyah Highlands in Oakland. Will has worked in commercial real estate for three years and recently earned his construction management certificate from California State University East Bay, where he previously double majored in finance and corporate Management. He's been helping homeowners all over the Bay Area with their home remodels, additions, and retrofits. He loves helping them see a property's potential and execute their vision.
When he's not real-estate-ing: "I've been playing soccer my whole life and not stopping anytime soon, even if my legs don't work like they used to!"
Most interesting find in a home he helped someone buy or sell: "I listed this multifamily property in Berkeley. One of the tenants was a homeopathic healer who had a room solely dedicated to sound bowls! She let me play each one, and it never got old."
REALTOR®
Erick Moreno describes himself as an entrepreneur, martial artist, soccer fanatic, dog dad, and nature seeker. Richmond born and raised, Erick comes from a hospitality background and is passionate about helping clients reach their homeownership goals. He launched his real estate career in 2021.
Hometown: Berkeley
Favorite East Bay hangout: Inspiration Point in Berkeley for hiking with the dogs or a challenging bike ride
Why he came home to Abio Properties: "As a new agent, I couldn't ask for more in terms of feeling welcomed and having all the support I could ever need. The knowledge and support Abio offers are invaluable."
REALTOR®
Bay Area native Lee Nijmeh grew up in sunny San Jose and moved to Oakland after completing college. Lee fell in love with the East Bay because of its incredible proximity to everything – the wine country, the beaches, the redwoods, city life, and more. For nearly 20 years, Lee worked in special education, helping countless children and families get the support they need to grow and reach their full potential. In 2021, Lee decided to shift gears and focus on his other passion: helping people find their dream home. He uses his extensive local knowledge and experience working with a diverse clientele to help people find the perfect home for their needs.
Hometown: Oakland
Favorite East Bay hangout: Lake Merritt. "After walking the lake, I might stop by Merritt Station Cafe and grab a coffee, sit outside under an umbrella and watch the world go by. Afterward, maybe walk to the Grand Lake Theater to watch a movie. After that, maybe walk a few doors down and indulge in an amazing Greek dinner at Ikaros. There are so many great hangouts; it's hard to pick just one!"
Why he came home to Abio Properties: "It's obvious they value dedication and teamwork. When walking into Abio, you experience a warm and inviting atmosphere filled with knowledgeable people that genuinely want to help. At Abio, I feel like I'm part of a team where we all work together positively and cohesively. Our clients feel that level of warmth and professionalism. I'm thrilled to be a part of such an amazing team!"
REALTOR®
Katherine Figueiredo is a Northern California native who launched her real estate career in 2019. She started in new home sales with a large company in 2020 and sold more than $16 million in 2021 alone. Her expansive knowledge of the East Bay's unique neighborhood markets comes from living in so many of its cities over the years, settling in Lafayette with her son in 2011. Katherine's favorite pastimes include painting and snow skiing, and she's especially passionate about interior design. She loves advising clients about how to stage their homes for sale and helping them see the potential in a new property. Meeting new people really charges her batteries, she always says, "I have enough energy for 10 people!"
Hometown: Lafayette
Favorite East Bay hangout: Anywhere with her son. "Mostly take-out food these days and watching a great movie from our new sofa."
Why she came home to Abio Properties: "Choosing Abio was the best decision ever, as I have never run across a more dynamic, positive, supportive group of salespeople!"
REALTOR®
Matt Terwilliger first developed an interest in real estate after obtaining a Florida salesperson's license in college and used the proceeds to help pay tuition. Since moving to California, his career has been focused on customer service, sales, marketing, fundraising, and negotiating business contracts in sports marketing and alumni relations at University of California, Berkeley. But his love of real estate never subsided and brought him back full circle.
--
Want to connect with one of our new expert agents? Reach out at 888.400.ABIO (2246) or hello@abioproperties.com. And if you're an agent who is curious about joining our fun and fabulous family, check out our Join Abio website. Read why so many agents come home to Abio and make it one of the East Bay's fastest-growing boutique brokerages.