Market Report: Where are the Last Bastions of Affordable Housing in the Bay Area?
Market Report: Where are the Last Bastions of Affordable Housing in the Bay Area?
In this month's market update, we look at August home sales (still moving at warp speed) and explore where in the heck you can still find affordable housing in the Bay Area (hint: look east!)
Remember how we told you last month that the market might be cooling ever so slightly? Fewer sales and all that? Well, it can't cool fast enough for hopeful homebuyers who are still being outbid repeatedly.
Single-family detached homes in every East Bay city we track continued to sell at breakneck speed in August. The average Lafayette house, for example, sold in just 12 days last month compared to 26 days during the previous August. East Bay homes also sold for way over the list prices – like 30% over asking in Castro Valley and nearly 26% over asking in El Cerrito last month. (Scroll down to see what else happened in the East Bay in August.)
When the median sales price in the San Francisco Bay Area is around $1.3 million for a single-family home, what's a first-time buyer or buyer on a tight budget to do?
To help them out, we dug into real estate reports to uncover which East Bay cities have the cheapest homes in the Bay Area. Here's what we found…
Solano County: Most Affordable Housing in the Bay Area
Is Solano County the best-kept secret when it comes to (relatively) inexpensive real estate?
According to a recent report by the California Association of Realtors, Solano homeowners had the lowest average monthly mortgage payment, about $2,630 compared to the Bay Area average of more than $6,000.
Vallejo, on the southwestern edge of Solano, is where you'd find some of the cheapest homes in the Bay Area. The median sales price was $549,000 in July, according to Realtor.com.
Vallejo's selling points: Easy access to wine country, pretty countryside, history, and family attractions. You'd be minutes from the SF Bay Ferry-Vallejo Terminal, Napa, and Six Flags Discovery Kingdom.
>> Check out Vallejo homes for sale 
Contra Costa County: Give San Pablo, Pittsburg, Richmond Another Look
Want to avoid the crowds of homebuyers flocking to the same pricey open houses in Lafayette and Walnut Creek? Look at Contra Costa County's other cities with the lowest median sales prices in August:
San Pablo: $610,000
Antioch and Pittsburg: $645,000
Oakley: $680,500
Richmond: $777,500
Some of these cities haven't always had stellar reputations for livability, but that's changing. Pittsburg, which hosts the California Zinfandel Championship every year, revitalized its Old Town and Marina. And Richmond has exciting prospects for folks seeking affordable housing in the Bay Area because it's one of the few cities with major chunks of land still available for new development, particularly along the shoreline. Richmond also has a ferry service to San Francisco for commuters.
Here's a recent Pittsburg listing at 252 Comeabout Circle: $598,000 asking price for a 4-bed/2.5 bath home with 20-foot ceilings and views of the delta in a gated community. Not many places left in the Bay Area where you'll see a 2,135 sq. ft. house at that price.
And here's one in Richmond at 2857 Garvin Avenue: $499,000 asking price for a cozy 2-bed/1-bath bungalow in the desirable North and East neighborhood, where you have easy access to popular parks, hiking in Wildcat Canyon, San Pablo Avenue shops and restaurants, freeways, AC transit, and BART.
>> Check out more Richmond homes for sale
Alameda County: Go for Condos
The closer you get to SF, the higher the prices and competition are for detached single-family homes. Alameda County's lowest median sales price in August was $905,000 in San Leandro. (Compare that to San Leandro's median last summer – $745,000. What a difference a year makes!)
If you have your heart set on Alameda County, consider condos and townhouses. Here are the median sales prices for attached homes in August:
San Leandro: $595,500
Hayward: $598,500
Albany: $670,000
Emeryville: $690,000
For additional affordability, look at Concord in Contra Costa County, where the median sales price for attached homes was $420,000. Here's a recent Concord listing at 1220 Detroit Avenue for $339,000. The move-in ready cottage-like condo has two bedrooms, one bathroom, 792 sq. ft., plus an attached garage.
Condos and townhouses sometimes get a bad rep for resale value, but we're seeing rising prices and quickening sales in nearly all the markets we track. (Oakland is the exception; the median price fell 12% year-over-year to $627,500 this August.)
>> Check out Abio's featured condos + townhouses for sale 
Want REALLY Affordable Home Prices? Hello, Pottsville!
Just out of curiosity, we looked at the nation's most affordable metro areas for homebuyers right now.
The winner is Pottsville, PA, two hours from Philadelphia and two and a half from New York City, with a median price of $109,900, according to Realtor.com.
Have a tad more cash? In Peoria, IL, homes sell for the median price of  $119,900. Easy on the bank account!
What's happening in your city?
The following sales data is for detached single-family homes. Sources: Bay East Assoc. of Realtors and Contra Costa Assoc. of Realtors.
Alameda County Home Sales – August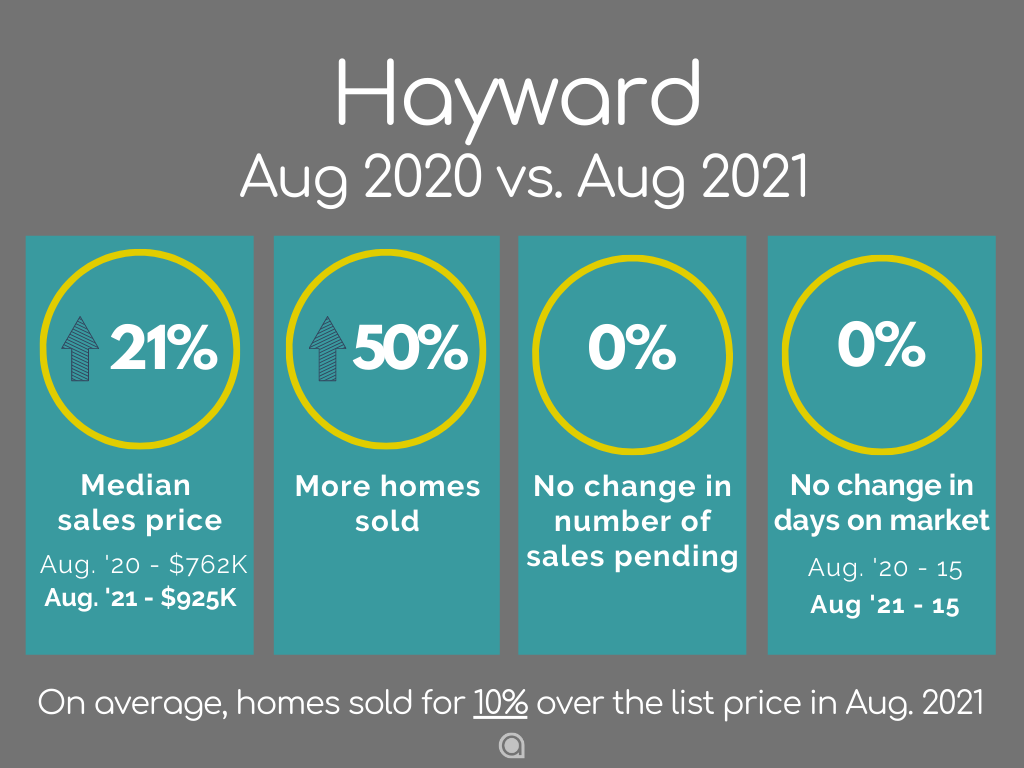 Contra Costa Home Sales – August
Don't see your city of interest here? Get in touch and we'll dig up those numbers for you. 888-400-ABIO (2246) or hello@abioproperties.com.