Market Report: Soggy & Slow March, Here's to a Hopping April
Market Report: Soggy & Slow March, Here's to a Hopping April
After a soggy and slow March, we are looking at a busier spring home buying and selling season in the East Bay. Thanks partly to dipping mortgage rates, potential buyers are warming up to the market.
Here's what you need to know about March home sales and what's coming in April:
Prices continued to slide.
In nearly all the East Bay cities we track, median sales prices for detached single-family homes continued their decline in March. Price drops ranged from 3% (Oakland) to 31% (Lafayette). Lafayette's median fell from $2.65 million in March 2022 to $1.84 million in March 2023.
These local changes mirrored price drops throughout the San Francisco metro market. March was the ninth straight month of decreasing home prices in the region.
Nationwide, the U.S. lost 58 "million-dollar" cities since the housing market peaked last July, according to a recent Zillow report. The Bay Area lost four, including Clayton and Pleasant Hill in Contra Costa County.
Multiple factors were behind the dipping prices.
The housing market is still coming down from a high of pandemic-fueled growth that simply was not sustainable.
The Fed aggressively hiked historically low mortgage rates in mid-2022 to battle inflation, which reduced many potential homebuyers' economic power.
And, lately, the shaky stock market, tech layoffs, regional bank failures, and heavy storms kept buyers away.
But don't panic, home sellers. Let's put these sliding prices into perspective.
Bay Area home prices have climbed steadily during the last two decades, with the 2008 recession being the big exception. The average home price in the San Francisco metro area, which includes Alameda and Contra Costa counties, was $273,660 in 2000. The average price hit a high of $1.21 million in mid-2022. And now we're at about $1.1 million.
So, unless you purchased a home in the last year or so, your property value still looks pretty good, right?
Here's another reason home sellers shouldn't worry:
When housing inventory is very low – like it is now – and buyers outnumber homes for sale, prices will hold or rise. So, unless you know of a mega multi-home construction project underway in the East Bay that can fill our vast inventory gap, sales prices will not nosedive anytime soon.
As our friends at JVM Lending recently pointed out, "Today's very tight inventory actually makes a strong case for more housing appreciation."
To that point…
Homes continued to sell for over the list price in March.
In March, homes sold for over the asking price in most of the East Bay cities we track, including:
Berkeley: 17% over list, on average
Alameda: 16% over
San Leandro: 4% over
Concord: 2% over
No, buyers weren't competitively overbidding at the crazy high rates we saw last year. But the practice definitely continued. For example, this 846-square-foot San Leandro home pictured below received eight offers and sold in 10 days for $111,000 over asking in March.
April forecast: Lower mortgage rates and more buyers.
The average 30-year rate recently dipped to an average of 6.28%, down from about 7% in the fall. And you know what that means – more home buyers should be hitting the market!
That's excellent news for sellers who have been waiting for the "right" moment to plant the "For Sale" sign.
At the same time, some buyers will continue to hold back, worried about additional tech layoffs, the impact of Silicon Valley Bank's failure, and U.S. economists' predictions that a recession will hit later this year.
But it is safe to say that, based on how many listings our Abio real estate agents have coming on the market, we're looking at a hopping spring market.
See how YOUR city's real estate market performed in March
The following graphs refer to detached single-family homes. Sources: Bay East Association of Realtors and Contra Costa Association of Realtors.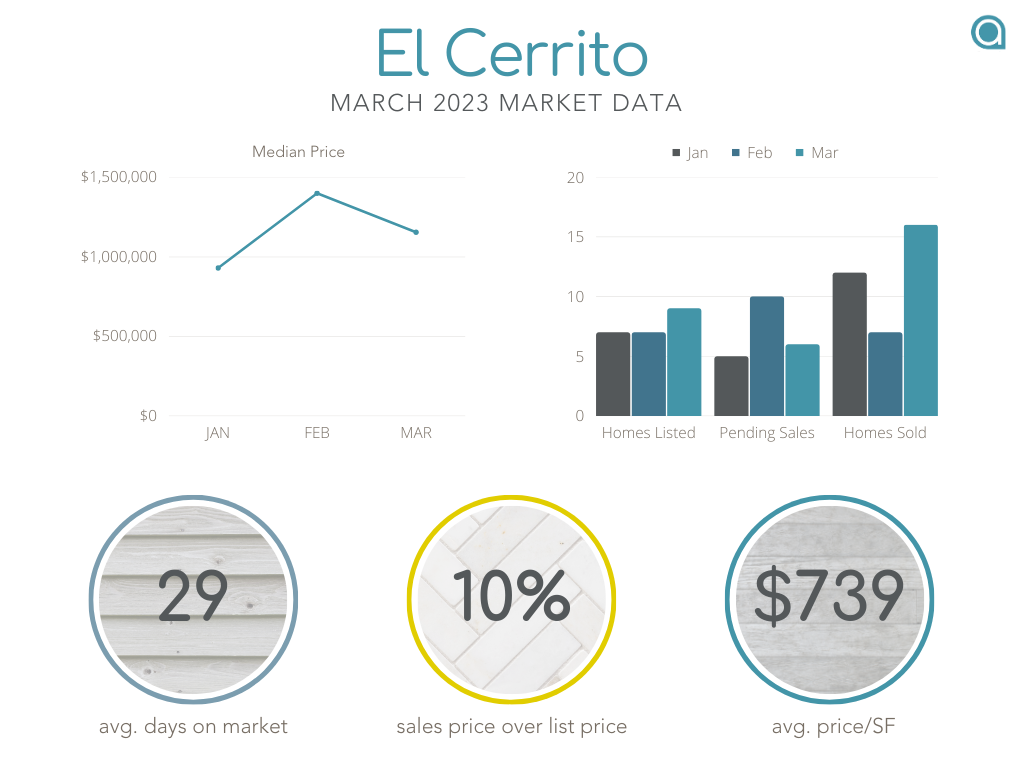 Don't see your city of interest here? Get in touch, and we'll dig up those numbers for you. 888-400-ABIO (2246) or hello@abioproperties.com.
If you liked this post, try these: