Market Report: Baby It's Cold Outside
Market Report: Baby It's Cold Outside
It's going to be a cold and quiet winter holiday season for East Bay home sellers, according to the latest market weather report. Buyers are hunkering down, watching and waiting for whatever happens next with interest rates and inflation.
In all the cities we track, home sales dropped in November (the latest month of data available) compared to November 2021. It's the fourth consecutive month of decreased activity, according to the Bay East Association of Realtors.
"Sellers tried to get homebuyers back up to speed by slashing sales prices. Since May, the median sales price for a single-family detached home in the East Bay is down almost $400,000," BEAR reports.
Yet... Home values remain higher than 4 years ago
As we've pointed out before, this slowdown does not necessarily mean home sellers are losing money. Consider that the median East Bay sales price in 2018 was $844,000 and is about $1.2 million now. We see this as a right-sizing of an over-inflated market.
Also, as the graphs below show, homes still sold for over the original asking price in November in a few cities such as Berkeley (14% over) and Oakland (10% over).
Pent-up demand means some determined buyers are holiday shopping
We started this article by saying many buyers have hit the brakes. But clearly not everyone...
"The buyers are not dead and gone. They are clearly still there," says Abio agent Krista Miller, who recently represented a 2,466-square-foot Oakland home that attracted 13 offers. Listed for $989,000, the home is in contract with a winning bidder who offered more.
Abio agent Rosie Papazian reports she recently represented buyers whose offer on a central Berkeley home was one of 25. The property was a fairly ordinary three-bed, one-bath home listed low at $898,000. It sold for just over $1.5 million to Rosie's client after a series of counters by the seller.
These two real estate tales might not be typical for the times. But they do provide hope for sellers who are wondering if their homes have a chance of selling now.
The good news for buyers
The good news for buyers – those who barely had a chance at homeownership during the last few years when the market was superheated – is they face much less competition now. We've met plenty of new buyers at recent open houses who say they are dipping their toes into the market now because the intensity has lessened.
Condos might be the best deal out there for first-time buyers. The median sales price for attached homes this November was about $810,000, which is 6% less than in November 2021, according to BEAR's analysis.
What's next for the East Bay housing market? Stay tuned for our team's 2023 predictions, coming next month.
In the meantime, as 2022 wraps up, see what's been happening with home sales in your area: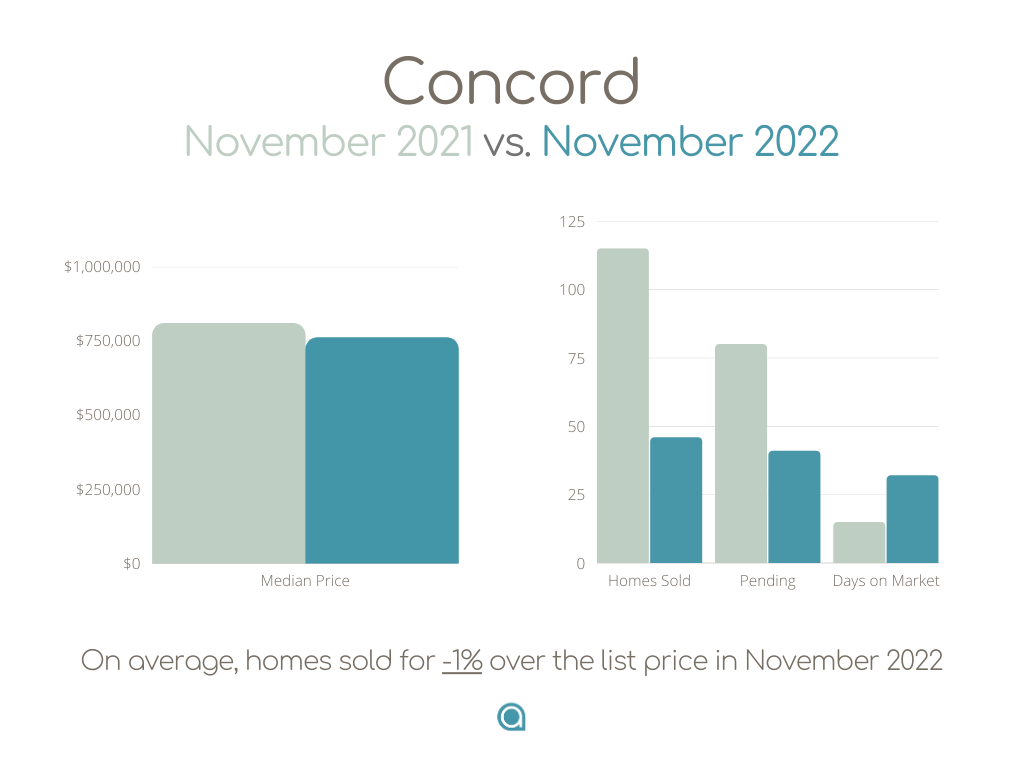 Don't see your city of interest here? Get in touch, and we'll dig up those numbers for you. 888-400-ABIO (2246) or hello@abioproperties.com.
If you liked this post, try these: