From Sea to Summit: We're Also Your Vacation Home Experts in The Sea Ranch and Tahoe
From Sea to Summit: We're Also Your Vacation Home Experts in The Sea Ranch and Tahoe
Did you know Abio Properties, your premier boutique real estate brokerage in the East Bay, also serves home sellers and buyers in The Sea Ranch on the breathtaking Sonoma Coast and in the majestic Lake Tahoe region?
Our expert real estate agents at The Sea Ranch and in Tahoe are excited to help anyone who wants a vacation getaway, second home, investment property, or retirement plan. We help clients who need a break from the city and their postage stamp backyards. And we help professionals who have the flexibility to live and work from anywhere in the expanding Bay Area.
Since the start of the pandemic, vacation markets have grown increasingly popular – and competitive – as more young professionals, families, and retirees retreat to these relaxed towns renowned for their natural beauty and outdoor recreation.
With the rise of bidding wars and speedy sales in The Sea Ranch and Tahoe, it's an exciting time for sellers…
...and a bit nerve-wracking for buyers.
But it doesn't have to be!
You want someone experienced on your side – on the inside. Our No. 1 tip is to partner with a real estate agent who intimately knows the local market and is well-versed in competitive, Bay-Area-esque bidding.
Abio's expert real estate agents in The Sea Ranch and Tahoe are locals with unparalleled knowledge. There's no one better to entrust with your investment.
Representing homes for sale in The Sea Ranch
Leading the charge for Abio Properties on the Sonoma Coast is devoted Sea Rancher and associate broker Elisabeth Watson.
Elisabeth is fortunate to live in both The Sea Ranch and the East Bay, serving buyers and sellers in both regions.
"My husband and I realized a life-long dream and bought a home at The Sea Ranch nine years ago. That changed our lives in ways we never expected," says Elisabeth, pictured here performing the community's annual July 4th reading of the Declaration of Independence. 
Elisabeth's favorite mornings are spent walking Beau, her rambunctious border collie, along The Sea Ranch Bluff Trail and throwing the ball for him on the beaches below. When she's not there, you'll find her swimming laps in the Del Mar community pool.
Connecting new neighbors to The Sea Ranch is her passion.
"A shared love of the coast and a strong sense of stewardship make this a close-knit community of part-time and full-time residents who look out for each other and have a lot of fun doing it," Elisabeth says.
What you need to know about The Sea Ranch real estate market 
The Sea Ranch is the crown jewel of California's coastline, set along Sonoma County's seaside cliffs and beaches 2.5 hours north of San Francisco.
Visionary architects and landscape designers, working with an idealistic developer, designed this unique community in the mid-'60s to "live lightly on the land," a pretty radical concept at the time. They wanted to create a place where ecologically sensitive homes coexist with the meadows, redwoods, and bluffs overlooking bright blue Pacific waters.
Homes here are surrounded by nature instead of fences. It's a place where Sea Ranchers can sit on their decks and watch deer graze on native grasses and herons soar overhead. They can hear seals on beaches below, lounging on the rocks and nursing their new pups. The 55 miles of trails in the shared Commons mean every day is a chance to discover something new.
The Sea Ranch's lasting beauty attests to its designers' foresight and its residents' devotion to nurturing our natural world.
Amenities include six tennis courts, a pickleball court, three swimming pools, a golf course, stables, an airstrip, a historic barn converted to a community theater, a library, a native plant garden, a decidedly not native plant garden, a dog park, a playground, and trails, trails, trails. It's impossible to be bored here. Take a yoga class, join the quilters or the knitters, join Bicycle Team TSR or the TSR Flying Society, volunteer at the Arts Center, become a Seal Docent, or monitor nesting birds.
Need to get some work done? The Sea Ranch's high-speed network means you can work anywhere.
The Sea Ranch real estate market is competitive, with the median sales price hitting $1.6 million in September – up an astounding 61% year-over-year – which is why buyers and sellers benefit most when they work with an experienced Sea Ranch real estate agent.
Check out this gorgeous recent listing Elisabeth represented: 35392 Sea Gate Rd., a 3-bed/3-bath beauty with sweeping meadow and ocean views. Listed at $1.975 million, it sold a few weeks later for $2.426 million!
Representing homes for sale in the Tahoe region
Our real estate ambassadors to Bay Area clients for Tahoe, Truckee, and the foothills are Abio co-founder and associate broker Linnette Edwards and Realtor Madison Preston.
Madison (pictured on the slopes) has been an agent for 17 years, splitting her time between Truckee and the East Bay. When she's not representing buyers and sellers in the mountains, you'll find Madison skiing backcountry in the winter or rock climbing after the snow melts.
Linnette, a Bay Area native with 20 years of real estate experience, has home bases in Contra Costa County and South Lake, where she purchased a cabin at Regan Beach in 2003. It's a sweet summer retreat and cozy launch pad for winter snowboarding (often joined by Abio co-founder Cameron Platt.)
"When you grow up in the Bay Area, Tahoe easily becomes your second home," Linnette says. "Unplugging from the busy city to plug into the mountains and plunge into the water revives me. My family and I are creating lifelong memories here, and I love helping my clients do the same."
(Pictured: Linnette in her happy place on the lake.)
What you need to know about the Tahoe real estate market 
The housing market in the Lake Tahoe region has been flourishing since the pandemic began and a new wave of Bay Area-ians sought primary and second homes there.
It's been a boon (dare we say windfall?) for longtime residents ready to cash out.
Although recent wildfires and drifting smoke slowed Northern California's vacation home sales in July and August, we're back to bidding wars and swift sales.
In South Lake, the median home price leaped 50% to to $737,000 this spring compared to spring 2020. And Truckee, which saw an unprecedented increase in San Francisco transplants, gained 63% for a median price of $1.2 million, the San Francisco Chronicle reported.
In Incline Village-Crystal Bay, a luxury market, the median sales price has tripled year-over-year, hitting $2.53 million this spring.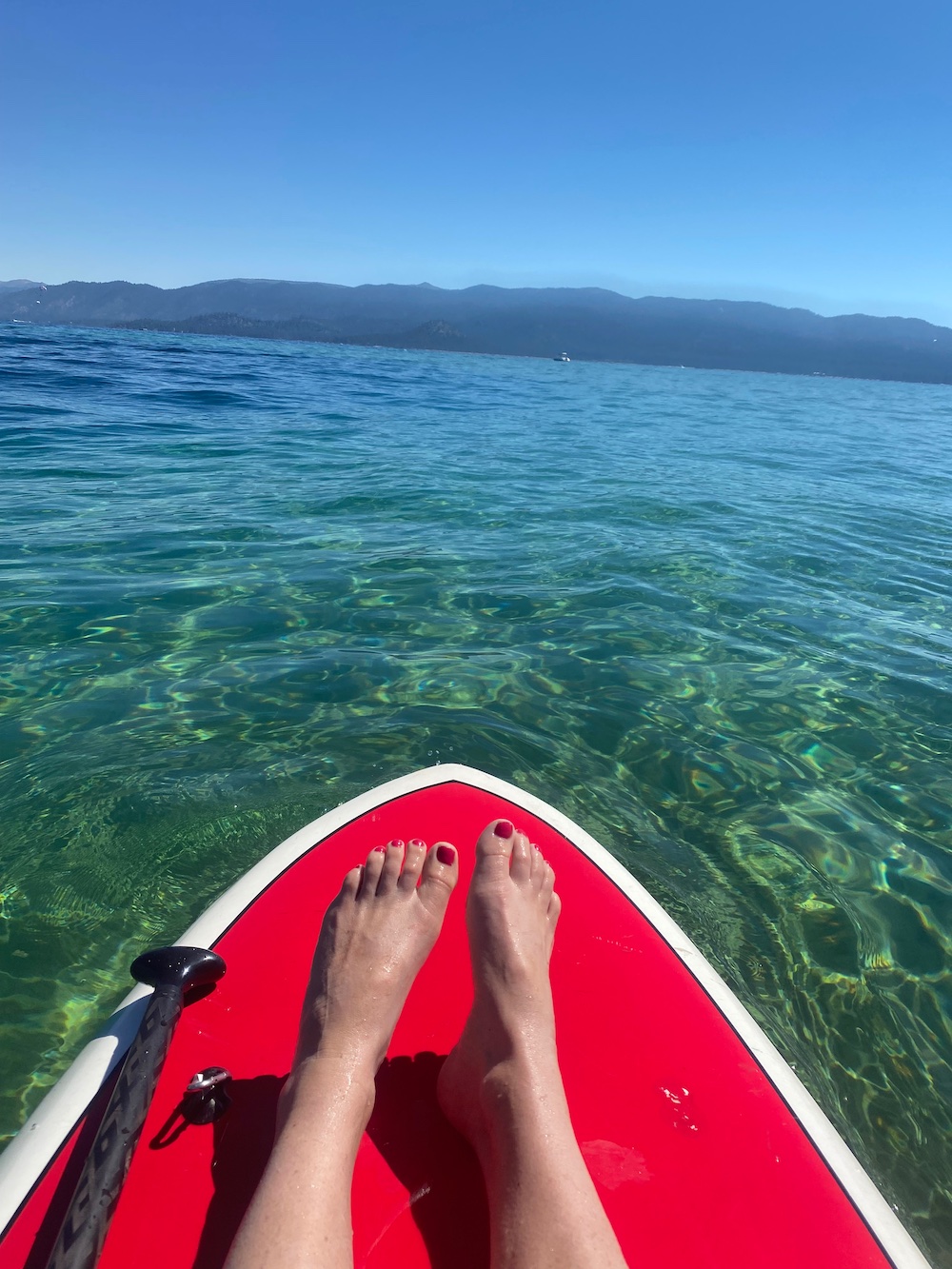 The greater Tahoe region is frequently described by its two sides: South Lake and North Lake. North Lake and Truckee have a quieter vibe than the buzz of South Lake, where you'll find more nightlife, casinos, restaurants, and festivals.
Summer and winter recreation in both regions are unparalleled. Slopes on the north side include Alpine, Palisades (formerly Squaw), Diamond Peak, Mount Rose, Sugarbowl, Boreal, Northstar, Homewood, Tahoe Donner. South Lake slopes are Heavenly, Sierra-at-Tahoe, and Kirkwood.
Buyers and sellers will benefit from partnering with a local real estate agent who understand both markets' nuances.
>> Read More: Pros and Cons of Buying a Vacation Home in California
From beach house to ski chalet, Abio Properties is excited to bring our extensive experience in the fast-paced Bay Area market to these vacation and second home markets. If you're an interested buyer or seller, reach us at 888.400.ABIO (2246) or hello@abioproperties.com.