5 Home Repairs That Give the Best Bang for the Buck When It's Time to Sell
5 Home Repairs That Give the Best Bang for the Buck When It's Time to Sell
If you're preparing to sell your East Bay home and wondering if you should fix it up or sell as is, you should know not all home improvements are created equal.
Want the best bang for your buck when it comes to home repairs, facelifts, and remodels? Read on…
In a hot real estate market like the East Bay, you probably don't need to try as hard as sellers elsewhere. But buyers here still don't want leaky roofs, peeling paint, drafty windows, or a jungle in the front yard.
Homebuyers who say they'd consider a fixer-upper often are really just imagining minor cosmetic repairs.
To find out which repairs and improvements will stop buyers from walking away and add profit to your bottom line, we asked our Abio Properties real estate experts and consulted the Remodeling 2019 Cost vs. Value Report, which estimates the cost and return on investment (ROI) for common renovation projects when a home is sold within a year of the work.
#1 Curb appeal
More than 90% of home searches start online, and potential buyers decide within 90 seconds of viewing the photos whether a property is worth seeing in person.
It is not a lot of time to make a good first impression.
That's why Abio Realtors Krista Miller and Raquel Louie both say they advise clients to install a new garage door and front door if the old ones are outdated or dingy.
"And buyers love the bling, so consider new house numbers and large potted plants at the front door," Krista says.
If you install a new garage door, you potentially could see a 137.8% return on investment, according to the Remodeling 2019 Cost vs. Value Report for the San Francisco area, the geographically closest city surveyed.
Homeowners who replace an old entry door might recoup 87%-127% of the cost, depending on size and materials.
Here's the breakdown:
Garage door
Average job cost in SF: $4,199
Resale value: $5,784
Entry door (steel)
Average job cost in SF: $2,217
Resale value: $1,935
Grand entrance (fiberglass)
Average job cost in SF: $10,101
Resale value: $12,872
#2 Stone Veneer
Speaking of curb appeal, another profitable home improvement project is adding stone veneer, according to the report. Be warned, installing faux stone to a home's exterior comes with a hefty price tag. But it could get you a 153.6% ROI.
Manufactured stone veneer (midrange)
Average job cost in SF: $10,890
Resale value: $16,731
Of course, there's always the less expensive alternative – the good ol' paint brush. You can expect to pay about $3,000 to paint a 1,500 square-foot-home, according to the HomeAdvisor.com app, which is a great tool for estimating how much various jobs cost by zip code.
#3 Lighting
Dark and shadowy homes seem drab and small, so go for updated light fixtures, more lamps, and the brightest bulbs. Buyers also like energy-efficient lighting.
"If the budget doesn't allow for changing out all outdated fixtures, then consider changing out just the dining room light and adding in a statement piece," Krista says.
You don't have to break the bank. Check out modern fixtures at retailers like Home Depot and Ikea.
Also for the budget conscious: Let in more light by cleaning windows, opening curtains and shades, and illuminating dark corners with lamps before showing the home to potential buyers.
#4 Windows
"One of the most undervalued, value-adding improvements is windows," says Abio Realtor Shannon Kelly. "Good windows can even improve a homeowner's quality of life by keeping heat in and cold out, and they dampen sound -- shhh freeway noise! They can add character and style, or allow more natural light."
If you have old aluminum windows and the budget to replace them, go for the upgrade. You could attract more buyers, sell faster, and recoup nearly 100% of the cost.
Vinyl window replacement (upscale)
Average job cost in SF: $20,286
Resale value: $ 20,173
Wood window replacement (upscale)
Average job cost in SF: $24,365
Resale value: $23,763
#5 Kitchen Update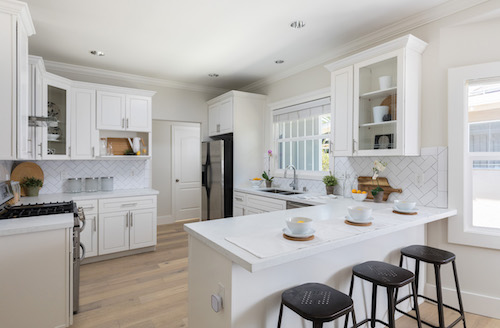 While real estate experts generally agree you'd lose money on launching into a major kitchen remodel before you sell, a modest makeover could get you nearly 113% ROI, according to the Cost vs. Value report.
"Quick fixes like refinishing cabinetry and changing out the hardware to something more modern make a huge impact," Abio Realtor Andrea Schlosser says.
A minor remodel also could include changing out cabinet faces, updating laminate countertops and flooring, replacing the oven and refrigerator with energy-efficient models, and rolling fresh paint onto the walls and ceiling.
Minor kitchen remodel
Average job cost in SF: $29,569
Resale value: $33,341
Not worth it?
Surprisingly, a new roof isn't high on the list of projects that reap a great return on investment, according to the Cost vs. Value Report, which estimates if you install an asphalt shingle roof, you might recoup just 80.4% of the cost.
Keep in mind, however, that a well-maintained home sells faster. If the roof is shoddy, cautious buyers will wonder what else is wrong with the place. Follow Abio's Seasonal Guide for Home Maintenance now so you can avoid big surprises and lost profits later.
When it comes to bathroom updates, don't sink your money into creating a spa-like sanctuary. Invest in paint, ceramic tile, an updated vanity counter with integrated sink, and a low-profile toilet. Freshen calk and grout and replace or resurface the tub. Update the lighting, cabinet pulls, and fixtures. If you spend under $28,000, you might reap an 88% return.
Moderate bathroom remodel
Average job cost in SF: $27,858
Resale value: $24,464
Consider the tax implications
Last but not least, consider the tax implications of home repairs and improvements.
First of all, says Abio co-founder and broker Cameron Platt, know that basic home repairs to maintain your property or prepare it for sale are not tax deductible.
Second, know that if you sell your home for a profit, you won't need to pay taxes on gains of up to $250,000 for single homeowners and $500,000 for married homeowners filing jointly. Profits over those amounts trigger the capital gains tax.
What is tax deductible? Major improvements that increased your home's value, prolonged its life, or gave it new use can be used in your tax calculations.
"They count against the capital gains that you would have to pay taxes on," Cameron explains.
Talk to an experienced tax advisor about all the tax rules, which can vary from state to state and administration to administration.
Ask the experts
Our last word: Don't go it alone.
Before launching into home improvements – or deciding to skip them – consult with a real estate agent who knows the lay of the land. The Bay Area is a unique market with dozens of micro markets. Home sales in Berkeley are not the same as home sales in Vallejo.
A good agent will help you make a list of everything that's defective, broken, or worn out. And he or she will take the guess work out of even the smallest repair and upgrade jobs.
Andrea, for example, says she often selects the light fixtures and paint colors for her homesellers: "We choose it and get the client's approval. If more work is needed, we collaborate more."
→ Read more about property prep that costs less so you can sell your East Bay home for more:
--
Abio Properties is a boutique real estate agency with offices in Oakland and Lafayette, and we specialize in making selling a home in the East Bay easy. No real estate question is too small or dumb, so please contact us anytime at 888-400-ABIO (2246) or hello@abioproperties.com.