Market Report: Surprise! New Record Median Sales Prices in the East Bay
Market Report: Surprise! New Record Median Sales Prices in the East Bay
Clayton, Danville, El Cerrito and Orinda home prices hit all-time highs for July
East Bay home prices are leveling up in several cities after taking some hard hits in the last 12 months. We even saw a few record highs in July in Alameda and Contra Costa counties.
Driving this rebound is the Bay Area's perpetually low housing inventory. With buyers outnumbering sellers, competitive bidding continues as the norm – despite inflation and mortgage rates.
Homebuyers seem to be acclimating and accepting today's interest rates, the average of which is hovering around 6.9%, compared to the lows of 2.65%-3% in 2020-2021. (Interestingly, the rates that current buyers have been struggling with aren't even that high compared to the record rate of 16.63% in 1981.)
It's a lucky time to be an East Bay home seller, especially considering that half of the country's largest metro areas have yet to rebound.
That's not to say it's a bad time to be a buyer. More on that in a bit...
Where home prices broke records in July
These cities broke median sales price records for July, surpassing the historic spikes that occurred in July 2021 for detached single-family homes:
El Cerrito
$1,392,500 July 2023
$1,175,000 July 2022
$1,266,000 July 2021
$1,092,500 July 2020
Danville
$2,115,000 July 2023
$2,000,000 July 2022
$2,025,000 July 2021
$1,506,678 July 2020
Orinda
$2,550,000 July 2023
$1,883,000 July 2022
$2,000,000 July 2021
$1,752,846 July 2020
Clayton
$1,322,500 July 2023
$1,096,000 July 2022
$1,250,000 July 2021
$864,900 July 2020
Will these cities break records next?
The following cities may be on their way toward hitting record median prices:
Castro Valley
$1,227,000 July 2023
$1,155,00 July 2022
$1,304,444 July 2021
$950,000 July 2020
Moraga
$1,800,000 July 2023
$1,565,500 July 2022
$2,000,000 July 2021
$1,570,000 July 2020
Pleasant Hill
$1,195,000 July 2023
$1,100,000 July 2022
$985,000 July 2021
$945,000 July 2020
$1,220,000 July 2019 (Unlike most East Bay cities that peaked in 2021, Pleasant Hill hit a high in 2019.)
Richmond
$715,000 July 2023
$652,500 July 2022
$740,000 July 2021
$624,750 July 2020
Mixed messages in some East Bay housing markets
Median sales prices for detached single-family homes dipped year-over-year in populous cities like Alameda, Berkeley, Oakland, Lafayette, and Walnut Creek. Yet, at the same time...homes sold over list price in all those cities in July. Welcome to Bay Area surreal-estate! It's a tight market where buyers often need to competitively bid over the initial asking price to win their dream home, even when economic conditions are tenuous.
If this is a seller's market, what's a buyer to do?
Don't give up!
As we've told you throughout this year, the good news is you have less competition than you did during the superheated markets of 2021 and early 2022. Interest rates, inflation, and tech layoffs didn't scare off everyone but did scare off many. Yes, you could be bidding against other buyers. But a handful instead of dozens.
If interest rates are holding you back, consider this advice/prediction from real estate investor and "Shark Tank"-er Barbara Corcoran:
"Once you wait until interest rates go down, all hell is going to break loose. Everybody (who's) been thinking about buying a house is going to be looking and overbidding on every house. The prices are going to go through the roof. So, pick your poison: High interest rates now, which aren't so high. Or super high prices once they come down. Your choice."
Curious about July home sales in other East Bay cities? Look no further
The following graphs refer to detached single-family homes. Sources: Bay East Association of Realtors and Contra Costa Association of Realtors.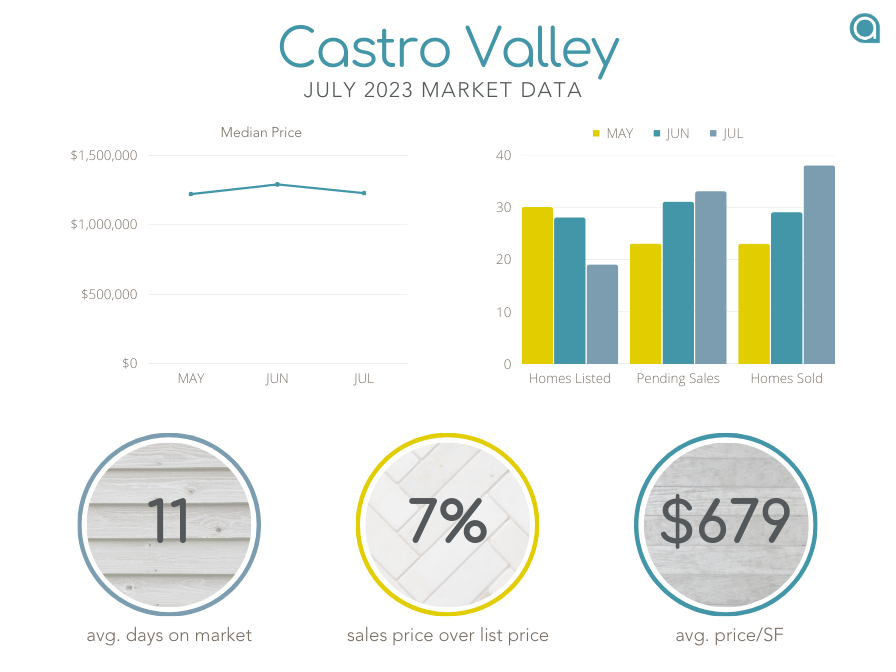 ---
Don't see your city of interest here? Get in touch, and we'll dig up those numbers for you. 888-400-ABIO (2246) or hello@abioproperties.com.