East Bay Real Estate Market Report: No Rest for the Holidays
East Bay Real Estate Market Report: No Rest for the Holidays
Did you hear the news? The median price for all homes sold in California topped $700,000 during the pandemic, setting a new record.
How quaint (blogger's voice drips with sarcasm).
Here in the East Bay in November, the median home sale price in Alameda County hit $925,000. In Contra Costa County, the median was $731,300.
Did someone say "seller's market"?
As Abio Properties continues to track this unpredictable COVID-19-era real estate scene and compare year-over-year data, we see sales prices continue to rise. In November, more homes went into contract, and more properties sold at breakneck speed. These pandemic sales aren't cooling off for the winter holidays, that's for sure.
Sales are fueled by amazingly low interest rates. More city dwellers and remote workers are moving to the suburbs. And suburb folks are moving even farther afield for bigger properties and lower living costs.
Prices: Wowza
(or Ouch)
Median prices for single-family detached homes grew in almost every city we track in Alameda and Contra Costa counties when we compared sales in November 2019 to November 2020. Some highlights:
Pleasant Hill saw the biggest increase of 27% year-over-year. Last month's median home sales price hit $1 million, a sharp rise from $799,500 in November 2019.
Lafayette had the highest median home sales price – $1.977 million – of all the cities we were watching last month. That's an impressive 25% year-over-year increase.
The lowest median sales prices last month were in Richmond ($689,000), Concord ($709,000), and Martinez ($715,000). Note that those relatively low prices were still higher than the medians in November 2019.
Buyers are busy even during the holidays
Um, isn't the market supposed to slow down around Thanksgiving and stay quiet until February? Not this year.
Oakland saw a significant increase in the number of detached homes sold last month – 280 of 'em – compared to 196 sold in November 2019.
A spike in the number of pending sales at the end of November 2020 indicates that this December will be uncharacteristically busy with escrow closures. In many cities, the number of homes in contract last month had doubled year-over-year. Wrap that house up for Christmas and put a bow on it.
Want to buy? Don't blink
Single-family detached homes are selling faster – in less than 20 days in most cities and fewer than 14 days in Alameda, Hayward, El Cerrito, Concord, and Moraga last month.
Our best advice for buyers in this fast-paced, ultra-competitive market is this: Get prepared now, even before you spot your dream home. Get our tips about which personal and financial documents you should have handy (it's a lot). And read our other hot tips to ramp up your home-bidding speed.
Condos and townhomes
Condo and townhome sales are a different story.
Some East Bay cities saw median sales prices rise, but not all.  In Martinez, for example, sellers saw the median price rise from $410,000 to $510,000 year-over-year. But Albany, Hayward, Oakland, Moraga, and Pleasant Hill prices fell.
Also, the number of condos that went into contract in November slipped in most cities compared to the previous November.
What's happening in YOUR city?
The following data is for detached single-family homes. Sources: Bay East Assoc. of Realtors and Contra Costa Assoc. of Realtors. Compiled by Abio Associate Broker Diana Smith.
Alameda County Real Estate Market
Contra Costa County Real Estate Market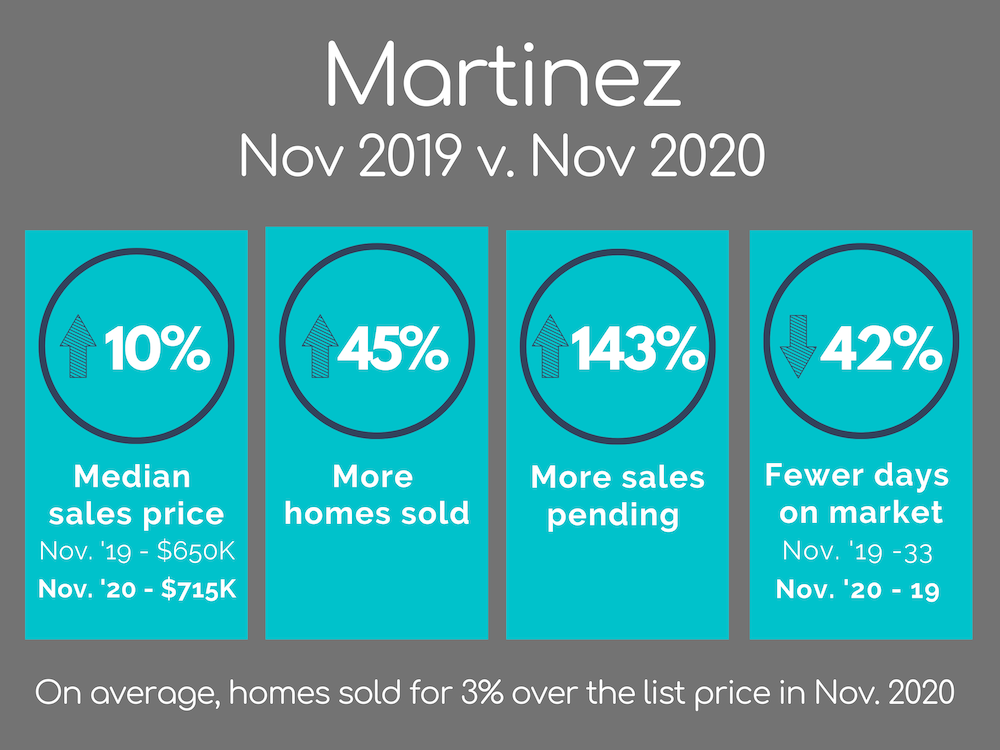 Don't see your city listed in this East Bay real estate market report? Get in touch and we can help you. Contact Abio Properties at 888-400-ABIO (2246) or hello@abioproperties.com.