East Bay Market Report: "This is the fastest I've seen a market adjust down"
East Bay Market Report: "This is the fastest I've seen a market adjust down"
The Bay Area housing market, long held as one of the nation's most expensive, cooled dramatically since interest rates and inflation spiked this spring. Yet, in true Bay Area fashion, this development hasn't translated into terrible results for sellers or terrific news for buyers.
Our market remains uniquely…confounding, exciting, challenging. Practicing real estate here takes a special kind of persistence and flexibility, for sure! We're ruled by supply and demand, and demand far outpaces supply even during this cool down.
The most recent home sales data for July 2022 (compared to July 2021) reveals:
Median home prices for detached single-family homes fell in July 2022 compared to July 2021 in most East Bay cities we track. It's the first time we've been able to say that since the pandemic began.
Median prices dropped slightly in Castro Valley, Hayward, Oakland, El Cerrito, Danville, Lafayette, Martinez, Moraga, Orinda, Richmond, Clayton, and San Pablo.
Median prices still rose year-over-year in Alameda, Albany, Alamo, Concord, Pleasant Hill, Walnut Creek, El Sobrante, Pinole, and Pleasanton.
Meanwhile, homes still sold for over list price nearly everywhere we track.
The number of homes sold dropped dramatically year-over-year in most cities, signaling buyer and seller hesitancy.
Homes often took longer to sell. But, by "longer" we mean 18 or 20 days on the market instead of 10, which is still speedy considering the national average is 25 days.
Inventory increased, giving home buyers more choices than they've had in years.
As Abio Properties co-founder and associate broker Linnette Edwards recently told the San Francisco Business Journal, "In my 20 years of selling real estate, this is the fastest I've seen a market adjust down."
The following graphs highlight what she means. You can see the changes between May, June, and July this year. Median home prices fell slightly, properties took a little longer to sell, they sold for over the list price but not as grandly, and the number of active listings increased markedly in our busiest East Bay markets.
As Linnette explained to the Business Journal, the super-heated market is experiencing a wild – and somewhat welcomed – correction.
Homes listed at or above $2 million are seeing the most volatility, which Linnette experienced first-hand when selling her parent's Moraga home on School Street in July. Listed at $2,495,000, it sold over the asking price at $2,515,000. Yet Linnette believes if they listed in April, the home could have sold at $2.7 million.
Tips for today's home sellers
Have confidence that your home will sell despite the cooling market because tons ofhome buyers are still shopping. Demand remains much greater than the Bay Area's historically low supply.
But adjust your expectations. Your home might not sell as quickly as it would have five months ago or for waaay over list price. Nevertheless, you'll probably reap a pleasant profit because your home value has risen significantly since you moved in.
Tips for today's home buyers
You have more listings to choose from and less competition. Inventory has doubled in popular places like Berkeley, Lafayette, Oakland, and Walnut Creek since springtime.
There's more truth in pricing. Instead of listing homes at an artificially low price to spark a bidding war, sellers are increasingly setting a "transparent" price that reflects what they'll truly accept.
You have leverage. During the height of a sellers' market, buyers commonly drop contingencies like inspections and appraisals. Not so much during a shifting market. Ask your real estate agent to identify "wiggle room" and incentives. As we explained in a previous post, sellers might consider offering closing cost credits (given to a buyer to credit home repairs), interest rate buydowns (the seller credits points to the buyer to buy down the interest rate), and termite report clearances. The listing agent also might offer your buyer's agent a bonus to sweeten the pot.
What's been happening in YOUR city?
Curious about how the market is changing in your specific community? The following graphs show city-by-city East Bay home sales data for detached single-family homes. Sources: Bay East Assoc. of Realtors and Contra Costa Assoc. of Realtors.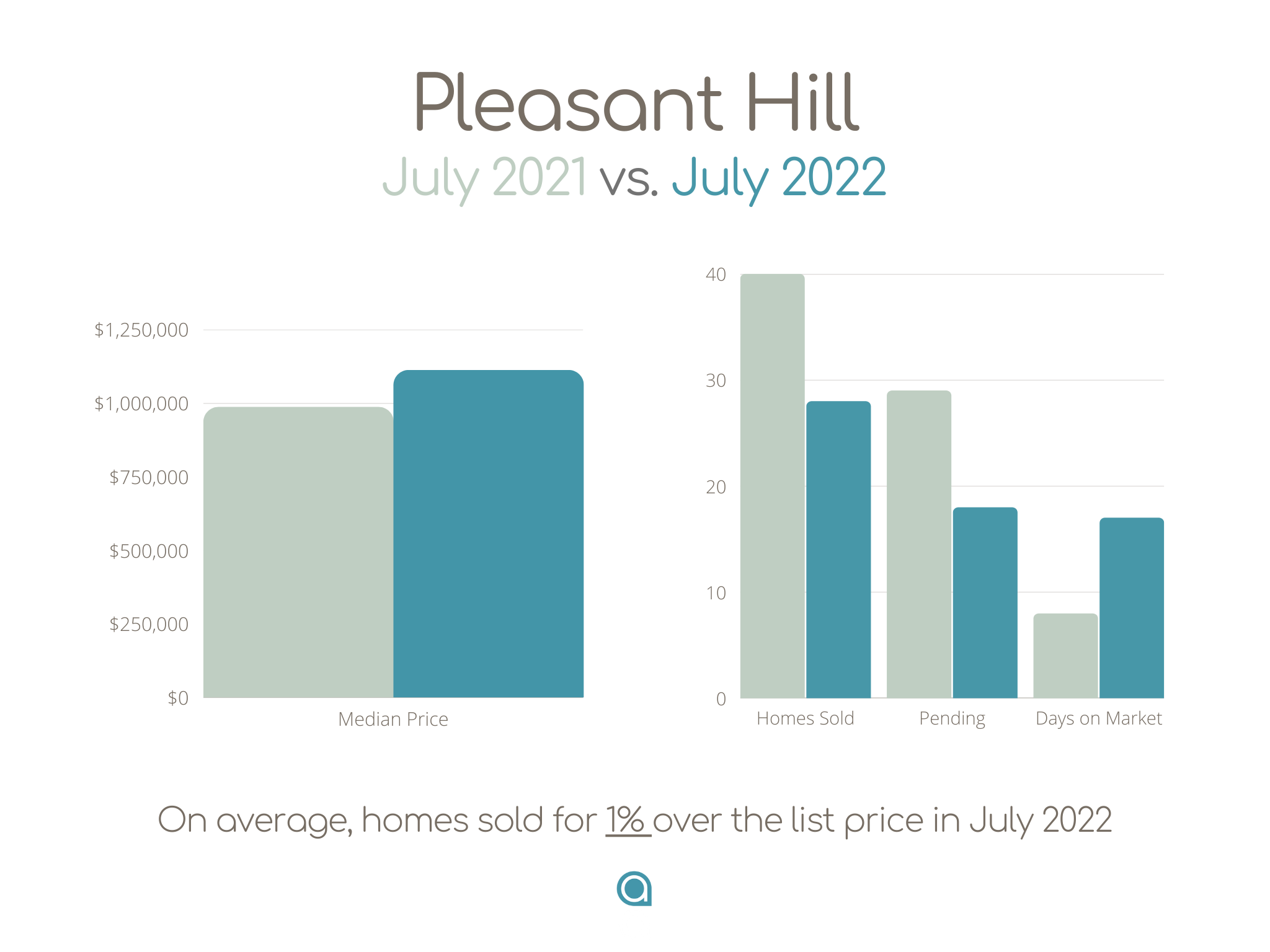 Don't see your city of interest here? Get in touch, and we'll dig up those numbers for you. 888-400-ABIO (2246) or hello@abioproperties.com.