East Bay Market Report: August Cooled, Don't Expect a Fast-Paced Fall
East Bay Market Report: August Cooled, Don't Expect a Fast-Paced Fall

In this month's East Bay real estate report, we tease out late summer sales numbers and explain why our cooling market isn't the same as a crashing market. Also: What's happening with rising interest rates, how many square feet you get for $1M, and why Pleasanton is the getting so many props.

You asked what's up with the East Bay real estate market, and we got your answers! Analyzing the latest housing data available, we found the market cooling down from its highest highs yet still strong during the late summer despite rising interest rates, inflation, and worries about layoffs, especially in Silicon Valley.
Before we go into the details, we'll cut to the chase: If you want to sell your home now, plenty of buyers are back from summer vacation – ready, willing, and able to purchase. They're just moving a bit slower and bargaining more than before. On the flip side, if you want to buy a home, you have more properties to choose from and less competition from other buyers.
Here's what's changed between August 2021 and August 2022:
Median sales prices for detached single-family homes fell 2%-9% in many cities we track, including Berkeley, Castro Valley, Martinez, Pleasanton, and Richmond.
At the same time, median sales prices rose in several other cities, including Alameda (18% increase to $1.6 million), Orinda (20% increase to $2.2 million), and Oakland (8% increase to $1.1 million).
Homes sold over the list price in nearly all East Bay cities we track, most notably in Berkeley where the average home sold for 21% over asking this August.
Home sold more slowly on average, taking roughly three weeks to find buyers versus the one- or two-week timeframe we saw last August.
Active listings roughly doubled. Buyers, you have more choices now!
See more August sales data for your East Bay city here.
See how things cooled in the last six-months:
In other real estate news...
Mortgage rates topped 6% for the first time since 2008
Mortgage rates climbed above 6% during the week of Sept. 12 in response to higher-than-expected inflation numbers. Higher rates will likely keep the residential housing market in cool-down mode. But this news shouldn't freak out home sellers. As our friend Jay Voorhees at JVM Lending reminds us in his last newsletter, "There will still be over 5 million homes purchased this year – a larger number than what we saw in 2018 and 2019."


How much house do you get for $1 million these days?
The San Francisco Chronicle reports that sales of million-dollar homes more than doubled in the U.S. over the past three years, but Bay Area buyers are getting a lot less house for that $1 million than buyers elsewhere. (Are you surprised?) In a comparison of the 42 largest U.S. markets, $1 million bought the least square footage in the San Jose metro region, followed by the San Francisco metro area that includes Alameda, Contra Costa, Marin, and San Mateo counties, according to the Chronicle's analysis of Zillow data for the quarter ending in April 2022.
Here's how many square feet (median) you get for $1 million:
San Jose metro: 1,399
San Francisco metro (includes East Bay): 1,636
Los Angeles: 1,644
Sacramento: 2,641
Pleasanton named one of the best Bay Area neighborhoods to buy a home
House Digest recently named Pleasanton one of the best Bay Area neighborhoods to buy a home: "What makes this town great is that Pleasanton offers all the convenience and accessibility of a small city, yet still is a majority suburban neighborhood." Pleasanton has made other lists over the years, including 24/7 Wall Street's "America's 50 Best Cities to Live" and Money Magazine's "Best Places to Live." Guess what? You could live there, too! See the latest listings.

What's been happening in YOUR city?
Curious about how the market is changing in your specific community? The following graphs show city-by-city East Bay home sales data for detached single-family homes. Sources: Bay East Assoc. of Realtors and Contra Costa Assoc. of Realtors.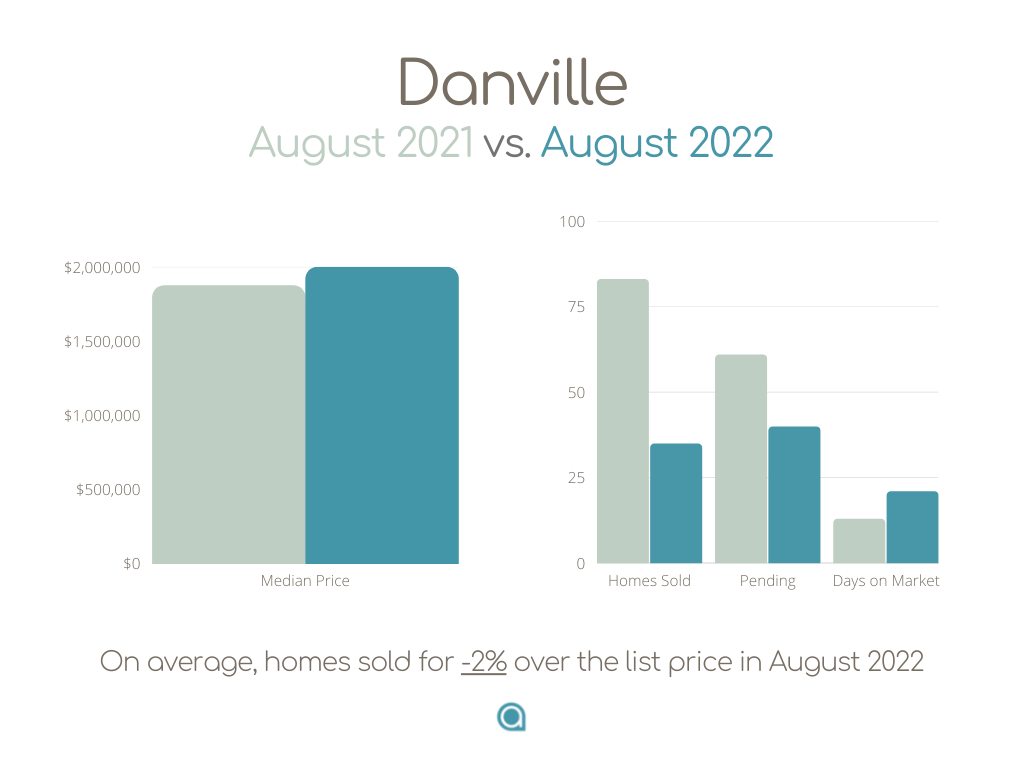 Don't see your city of interest here? Get in touch, and we'll dig up those numbers for you. 888-400-ABIO (2246) or hello@abioproperties.com.