Market Report: Median Home Prices Inched Up in Several Cities in April
Market Report: Median Home Prices Inched Up in Several Cities in April
Many East Bay housing markets are slowly recovering from the big hits they took when the feds hiked interest rates last spring and hampered many people's home-buying power.
You can see in the following graphs that median sales prices for detached single-family homes were riding high in April and May 2022 before dropping in the fall and winter as interest rates rose. By this winter and early spring, sales prices inched back up – although not nearly touching the sizzling 2022 levels. Lafayette was an exception, as you'll see below.
Here's what is surprising today's homebuyers
With this year's spring sales season underway, many East Bay buyers who've been hearing dramatic news about price drops (headlines like "The Bay Area has the worst performing housing market in the nation") – and have not been reading our blog, wink wink – are surprised they can't find the bargains they expect. They're even more shocked to learn they might need to bid over the asking price to win.
This April, for example:
Berkeley homes sold for 18% over the asking price on average.
Alameda homes sold for 10% over.
Oakland homes sold 12% over.
Lafayette homes sold 6% over.
Sellers: Supply-and-demand props up prices in your favor
As Bloomberg recently reported, scarce inventory is the culprit – propping up values in the Bay Area despite the region being at the center of tech layoffs and bank turmoil.
As long as there are more buyers than sellers, prices aren't decreasing significantly. And the Bay Area has been plagued by a severe inventory shortage for decades. Exacerbating the shortage is this: With the rise in interest rates, fewer folks are selling their homes. For instance, 354 homes were listed for sale six months ago in Oakland. Last month, there were 257 active listings.
Bottom line: We have a unique market condition that continues to favor sellers in much of the East Bay.
Buyers: Priced out last year? Take a second look now
We started this post by saying sales prices have inched up but not reached the peak prices of spring 2022 in many East Bay cities. So, if you were priced out of these communities a year ago, reconsider your chances now. Some median sales prices April 2023 vs. April 2022:
Richmond: $680,000 vs. $840,000
Concord: $750,000 vs. $895,000
Hayward: $837,500 vs. $1.07 million
San Leandro: $834,000 vs. $1 million
Oakland: $1 million vs. $1.2 million
Walnut Creek: $1.4 million vs. $1.85 million
Berkeley: $1.6 million vs. $1.9 million
Danville: $1.9 million vs. $2.5 million
There's a chance that rising interest rates cancel out these price decreases. According to our friends at JVM Lending, each 1/2% increase in rates reduces buying power by roughly $5,000-$6,000 per $100,000 borrowed (also depending on property tax rates and the total purchase price). We recommend you consult with a trusted lender who can advise you about borrowing options. Contact us if you need help finding a local mortgage broker, and we'll share our contact list.
See how YOUR city's real estate market performed this April
The following graphs refer to detached single-family homes. Sources: Bay East Association of Realtors and Contra Costa Association of Realtors.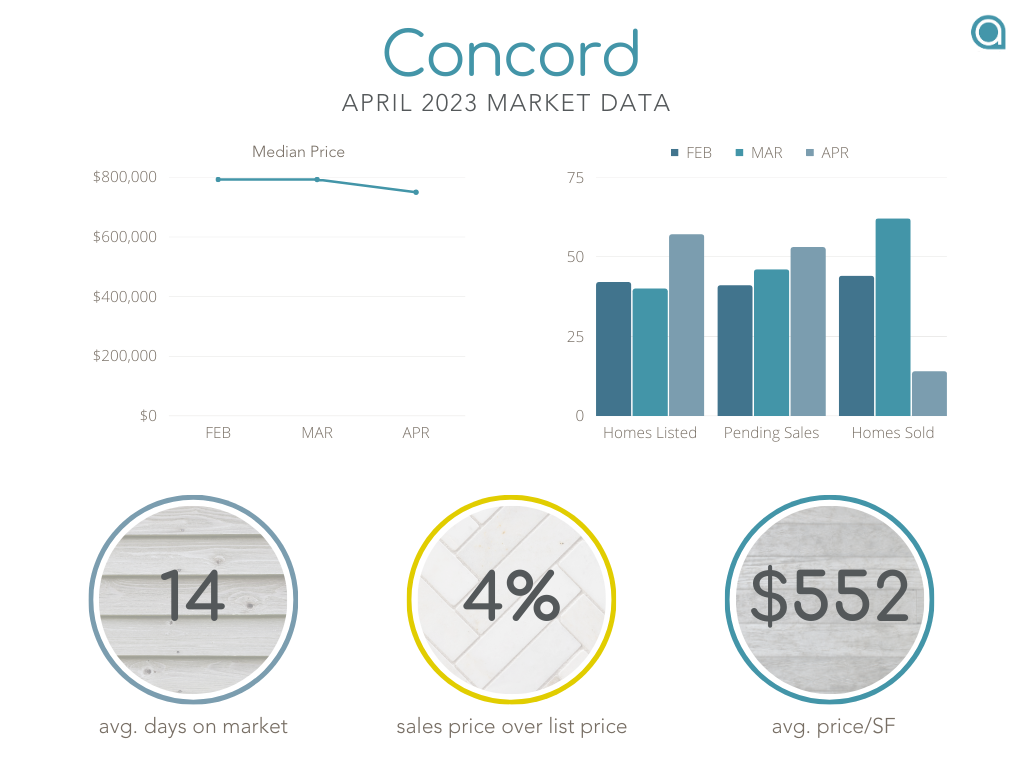 Don't see your city of interest here? Get in touch, and we'll dig up those numbers for you. 888-400-ABIO (2246) or hello@abioproperties.com.