Market Report: Is the East Bay Heading into a Cooler Market?
Market Report: Is the East Bay Heading into a Cooler Market?
In this month's market update, we look at July home sales in the East Bay and take the market temperature for the rest of 2021. (Spoiler alert: Don't pack away those Speedos just yet.)
Cool. Calm. Chill. Coolio.
After spending the last 18 months trying to come up with new ways to describe our red-hot housing market (sizzling, scorching, muy caliente), dare we suggest the temp is finally dropping?
The latest East Bay home sales stats indicate a (very) slight cooling trend in July. The month ended with fewer pending sales than the previous July in many cities we track.
In Alamo, for example, the number of detached single-family homes in escrow fell 38% year-over-year. Pleasant Hill experienced a 26% drop. Concord saw a 21% dip. Oakland saw a 19% decrease.
Is it a trend? Or just a summer lull while families go on vacation and others take a house-hunting break because they've been priced out and burned out? And, if the market is really cooling, what's the impact on homebuyers and sellers?
Well, wipe that summer sweat off your brow and let us lay some chill stats on you…
Statewide downshift for second half of 2021 (but still a banner year)
In July, the California Association of Realtors (CAR) revised its housing market forecast for the rest of 2021. Their economists predicted:
The pace of statewide sales will cool during the 2nd half of the year.
California will still end 2021 with nearly 8% more transactions than in 2020, putting the state on track for its best year for home sales in a decade.
Median statewide sales prices will "normalize." They won't drop but also won't spike the way they have been. (By "spike" we mean this: California's median home price set a new record high for the fourth consecutive month in June, rising to $819,630. A year earlier, the median was $626,170.)
What does this mean for homebuyers?
If this forecast holds, buyers might have an easier time winning their dream house this fall and into 2022. They might not have to compete as fiercely and bid so far over the list price.
However... We're not there yet. In the field, we're getting mixed signals:
Abio Properties agent Rosie Papazian reports that many of her buyers are having more success now than in April, May, and June. In July and early August, six of her clients won bids on homes. One of those buyers, shockingly, was the only bidder on a fantastic Montclair home listed at $975,000. "Every single offer I've written since July, I've gotten into contract," Rosie says.
Abio co-founder and associate broker Linnette Edwards says she represents two buyers who currently are each bidding on Oakland and Lafayette homes that a few months ago would have pulled 10 bids but now are attracting one or two.
At the same time, Abio agent Mariah Bradford recently received 14(!) offers on a home she represents in Oakley. Listed at $719,000, it went into contract seven days after listing.
A 3-bed, 2-bath home in San Pablo listed at $699,000 received 17 offers and sold in under two weeks. (We're pretty sure this relatively low price tag is the reason for the large number of bids.)
The takeaway:

Fatigued buyers, don't give up. If you put your search on hold, come back! Bidding wars are not inevitable.

Sellers, it's still your market. You may get a tad fewer bids, but sales prices remain at all-time highs.
East Bay prices haven't begun "normalizing"
While the market frenzy might become a little less, er, frenzied going forward, our local home sellers are still have the time of their lives.
In July, median sales prices for detached single-family homes continued to climb in every city we track. Some standouts (if you live here and are considering selling, the time is right!):
Albany's median price hit $1.5 million, a 43% jump year-over-year.
Castro Valley's median was $1.3 million, up 37% YOY.
Alamo's median hit a whopping $2.5 million, up 36% YOY.
Martinez's median leaped to $888,000, up 29% YOY. (Even so, Martinez remains one of the more affordable East Bay housing markets for first-time buyers)
Oakland's median price was $1.2 million, up 28% YOY.
Demand still outstrips supply 
Even as some homebuyers take a summer break, demand continued to outstrip supply in July, leading to homes selling at breakneck speed and intense bidding wars.
Properties sold  often within two weeks and for over the asking price in all the cities we track. For example, the average El Cerrito home went for 34% over the asking price in 12 days of being listed!
Low interest rates keep determined buyers in the game
Ultra-low interest rates are empowering determined buyers to stay in the game. The average 30-year fixed mortgage rate fell to 3% in early August, the lowest since February.
We wish we had a crystal ball and could tell you if interest rates will rise during the second half of 2021 or 2022. We've read some expert takes that predict that a modest hike is inevitable. But only time will tell.
What's happening in your city?
The following sales data is for detached single-family homes. Sources: Bay East Assoc. of Realtors and Contra Costa Assoc. of Realtors.
Alameda County Home Sales - July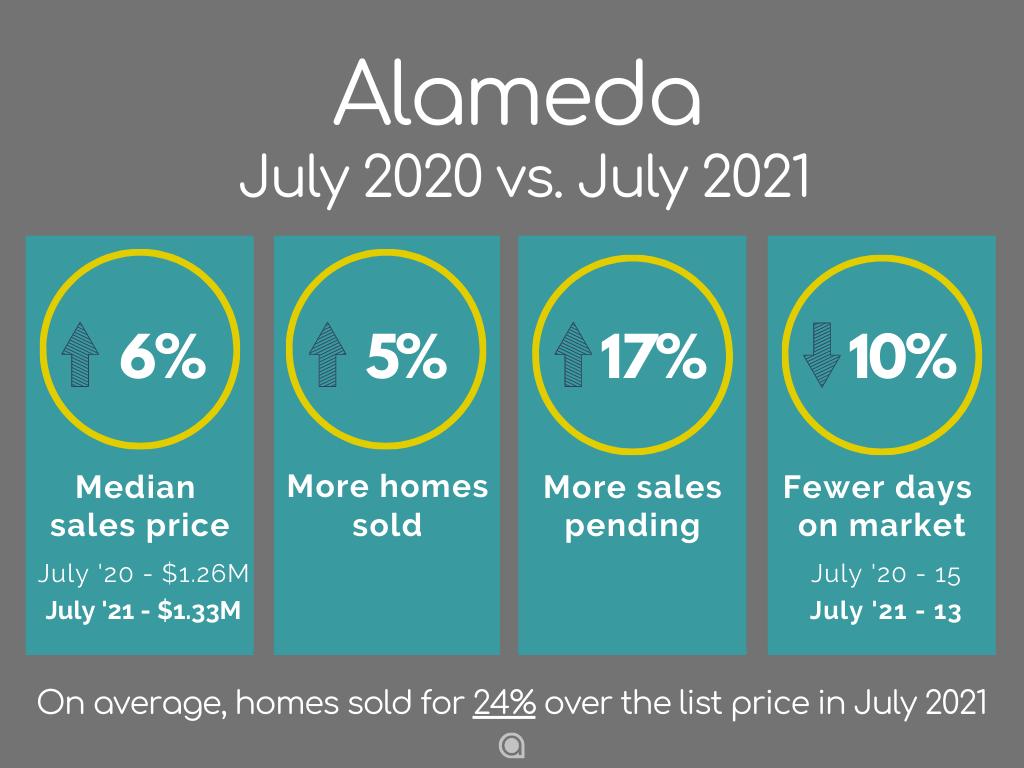 Contra Costa Home Sales - July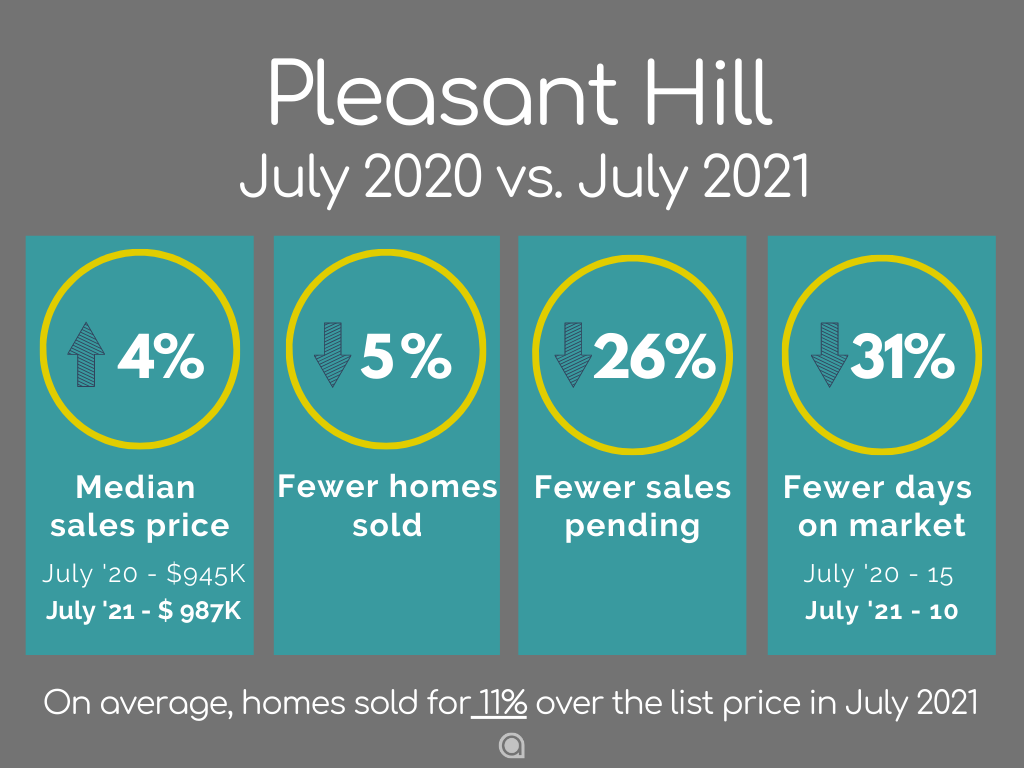 Don't see your city of interest here? Get in touch and we'll dig up those numbers for you. 888-400-ABIO (2246) or hello@abioproperties.com.