Bay Area Housing Market Report: Interest Rates, Recessions & Silver Linings for Buyers (believe it or not!)
Bay Area Housing Market Report: Interest Rates, Recessions & Silver Linings for Buyers (believe it or not!)
Now that we've entered an era with the highest mortgage rates since 2009, everyone wants to know how the Bay Area housing market is reacting to rising rates, growing inflation, stock market swings, and recession rumblings.
Are buyers backing off? Will Bay Area home prices finally drop? Will our infamously hyper housing market slow to a halt? A crash? Should I wait to sell? Should I wait to buy?
Here's what we know:
https://www.facebook.com/plugins/video.php?height=314&href=https%3A%2F%2Fwww.facebook.com%2Fabioproperties%2Fvideos%2F529326888890265%2F&show_text=false&width=560&t=0
Bay Area home prices haven't peaked yet.
The Bay Area median sales price for an existing single-family home rose in May even after the Fed hiked historically low interest rates to about 5%. Across the nine Bay Area counties, the median price jumped 13% year-over-year to $1.3 million, according to the most recent sales data available.
In the East Bay in May, the median price jumped most notably in:
Danville – from $1.87 million to $2.45 million (31% year-over-year increase)
Clayton – $1.12 million to $1.46 million (30%)
Berkeley – $1.51 million to $1.87 million (24%)
Hayward – $915,000 to $1.13 million (24%)
Lafayette – $2.2 million to $2.53 million (15%)
Furthermore, East Bay homes consistently sold for over the list price. In Berkeley, the average home sold for a whopping 53% over asking! (Click for more details on May sales in the East Bay.)
It didn't just happen here in the Bay Area. The national median sales price of existing homes soared to a record $407,600 in May, even while sales activity declined with the first sharp rise of interest rates to about 5%.
Why did prices keep rising? Because demand for housing still exceeds supply – and probably will for a very long time.
So now it's June, and the Fed edged up mortgage rates again to over 6% for a 30-year fixed loan. That probably threw some cold water on our overheated market.
Which is why…
Sellers are considering price cuts.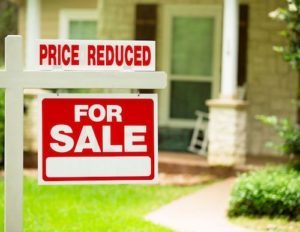 A new report from Redfin says more home sellers across the country are lowering their asking prices as rising mortgage rates cut into buyers' budgets. In both Oakland and San Francisco, about 28% of listings were reduced in price in May compared to 15% and 17% a year ago, respectively.
There's less gamesmanship in pricing.
We are seeing more transparent pricing – the real number sellers want for their home versus an attractively low starting figure (a "teaser" price) meant to draw lots of attention and spark a bidding war. Sellers who list their house at a transparent price of $1 million are signaling they will accept a $1 million offer instead of expecting a much higher bid.
It's not a price cut. It's a price clarification. And if all this leads to a slowdown of skyrocketing Bay Area prices, maybe we welcome it as a "righting" of inflated home values?
Buyers are spooked...until they realize there's a silver lining.
As the economy shifts, buyers are hesitating and reassessing their homeownership goals. While we were practically drowning in hungry buyers a few months ago, fewer-than-expected people are attending open houses now.
Buyers are spooked, but we think they should consider the silver lining: They have less competition. We're not saying multiple-offer bidding wars will stop altogether – especially on relatively low-priced homes. But there will be fewer buyers to beat.
Another silver lining for buyers: We expect (hope) more properties will hit the market in the coming weeks as anxious sellers rush to list their homes before the predicted recession hits. New listings across the U.S. were up 3% above one year ago, according to a July 11 Realtor.com report.
Sellers need to adjust their expectations.
Homeowners, especially those in a hurry to sell, should recalibrate their expectations. Whether that means reducing prices to overcome buyer skepticism or being more patient with increased days on market remains to be seen.
The best thing sellers can do is stay informed. Here at Abio, we are doing our best to share the latest market news with you.
Will the Bay Area housing market crash? Doubtful.
As we explained in our last market report, you can stop worrying about a Bay Area housing bubble like the one that burst and sparked the Great Recession of 2008. Today's market conditions bear little resemblance to that bubble.
What's happening in YOUR city?
The following East Bay sales data is for detached single-family homes. Sources: Bay East Assoc. of Realtors and Contra Costa Assoc. of Realtors.
Don't see your city of interest here? Get in touch, and we'll dig up those numbers for you. 888-400-ABIO (2246) or hello@abioproperties.com.