Where to See (mostly) Free Fireworks in the East Bay 2023
Where to See (mostly) Free Fireworks in the East Bay 2023
Ready to celebrate America's birthday with a bang? Several East Bay cities are hosting Bay Area fireworks shows, and if you're looking for spectacular displays without emptying your pockets in 2023, we've got you covered! We've curated a list of places where you can catch (mostly) free 4th of July fireworks displays that will leave you in awe.
Picture this: a warm summer night, a cool breeze gently caressing your face, and the night sky illuminated by brilliant bursts of color. It's the quintessential American experience, and the East Bay is ready to deliver. From historic downtowns and waterfronts to beloved neighborhoods parks, our cities and civic groups have planned unforgettable Bay Area fireworks celebrations. So, grab your lawn chairs, pack a picnic basket, and get ready for an unforgettable evening of pyrotechnic marvels.
Get a head start on July 3, when the city of Richmond explodes onto the holiday scene early with a glittering show at Richmond Marina Bay Park. The festival begins at 5 p.m. and includes live music and food trucks. The fireworks launch at 9:15 p.m. FREE
Here are the Bay Area fireworks events happening locally on July 4…

The City of Antioch is celebrating Independence Day in its historic Rivertown, starting at 4 p.m. with a parade running from West 2nd and E streets to West 3rd and D Streets. Hang out at Waldie Plaza for live entertainment, food, and games. Then at dusk, watch fireworks zip into the sky. FREE
Concord's all-day event starts with a family fun run at 8 a.m. and a parade at 10 a.m., which will meander from Mt. Diablo High School on Grant Street, around Todos Santos Plaza, and back to the rear entrance of Mount Diablo High School at Galindo Street. At 4 p.m. (after you've taken a power nap), the celebration resumes at Mt. Diablo High School for Concord's Home Town Picnic with a kids' carnival, food, local artists, and live music. The day culminates with fireworks over the school at 9:30 p.m. FREE
Start your day at 9 a.m. with a flag-raising ceremony at the Martinez Veterans Memorial Building, followed by the 4th of July Parade down Main Street at 10 a.m. The parade route runs from Court Street to Alhambra Avenue. Got a kid with a bike and a flare for decorating in red, white and blue? They're invited to join the children's Decorated Bike Parade, starting at 10 a.m. sharp at Main and Court streets. Top off the day with fireworks over the Martinez Marina at 9 p.m. FREE
A full day of July 4th fun at Moraga Commons Park begins at 11 a.m. with a patriotic dog parade and culminates with fireworks around 9:30 p.m. In between, there are family activities, inflatables, and live music at 6:45 p.m. FREE-ish. Donations encouraged to help the town raise $30,000 for fireworks. Donate at moragarec.com.
Pleasant Hill is another East Bay city hosting a packed day of festivities, starting at 7:45 a.m. with the Firecracker 5K Race (three laps around downtown) and kids 100-yard dash on Crescent Drive. Both are fundraisers for Pleasant Hill schools (register here). The "world-famous" Downtown Pleasant Hill Parade begins at 9:30 a.m. After the parade ends, walk to Pleasant Hill Park for live music, food, and fun from 10:30 a.m.–1:30 p.m. In the evening, College Park is the top spot for fireworks viewing. Fields open at 6:30 p.m. for the 8:45 p.m. show. FREE-ish. Suggested $4+ donation per person.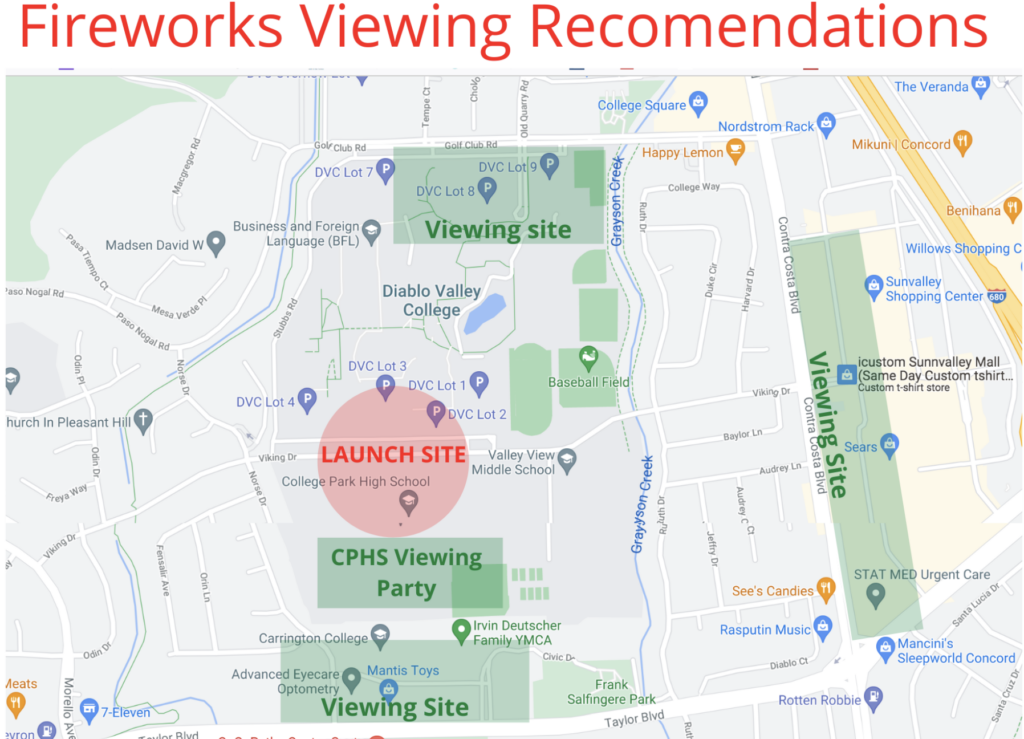 San Francisco | Peek-a-Boo Views of Bay Area Fireworks
Let's hope Karl the Fog stays home on July 4! If the skies are clear, plant yourself at one of the go-to East Bay viewing spots to catch the big San Francisco fireworks show (usually set off from two barges on the northern waterfront around 9:30 a.m.). Berkeley Marina and Emeryville Marina waterfronts promise good watching if the weather cooperates.
Or head to the hills to see distant S.F. and other Bay Area fireworks displays. Popular spots include Lawrence Hall of Science and Grizzly Peak. (Note that Berkeley closed Grizzly Peak Boulevard and Panoramic Way to non-resident traffic last July 4. It's unclear if they will be closed this year.)
Fire Prevention | Fireworks-Free Zones for DIYers
Contra Costa County: Fireworks are prohibited countywide, year-round. Even the "Safe & Sane" kind.
Alameda County: Prohibited everywhere except Dublin, Newark, and Union City.
See something, say something: We were blessed with plenty of rain in 2023, but fire risk remains. If you see illegal use of fireworks in your neighborhood, call the Alameda County Sheriff's Department at (510) 667-7721 or Contra Costa's illegal fireworks reporting phone number at (833) 885-2021. The house you save could be your own!
P.S. Tis the season to check out our Wildfire Readiness Guide. Also, learn about creating defensible space around your home.
---
Abio Properties is the #1 boutique real estate brokerage spanning Alameda and Contra Costa counties. Learn about the Abio advantage here and reach us at 888-400-ABIO (2246) or hello@abioproperties.com.