Will a Strong Oakland Real Estate Market Crush the Vibrant Arts Scene?
Will a Strong Oakland Real Estate Market Crush the Vibrant Arts Scene?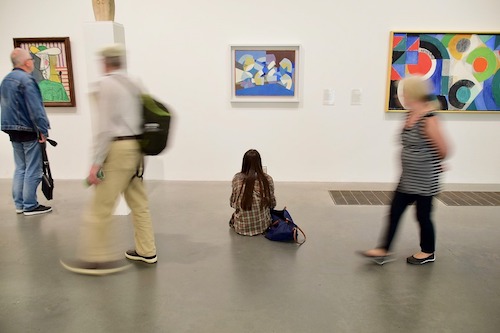 A local artist/writer recently penned a piece for an online 'zine questioning whether Oakland is still an artist's city, considering that the Oakland real estate scene is booming with new market-rate apartment buildings, offices, upscale restaurants and grocery stores.
Artists love Oaktown, but is the affection mutual?
Oakland historically has been a West Coast beacon for visual artists drawn by its urban diversity, liberal atmosphere, cheap rents, and open warehouse spaces.
The worry in recent years, however, is that Oakland real estate revitalization is sucking the creative juices out of the city.
We're here to tell you that Oakland still basks in the chromatic light of artistic innovation.
Yes, rents have risen. Yes, municipal arts funding has decreased (although city officials are regularly brainstorming how to fortify grant programs and protect art districts). And, yes, Oakland's building and fire inspectors have cracked down on unsafe conditions in live-work artist colonies following the deadly Ghost Ship warehouse blaze in 2016 that killed 36.
But living in Oakland still means experiencing First Friday Art Walks, Mural Festivals, and hundreds of gallery events, artist classes, and open work spaces.
You never know where you'll bump into a stunning artwork. Did you know more than 1,000 murals grace the sides of buildings and alleys throughout the city? Nine new large-scale murals went up during the 2018 Mural Fest alone.
And where else would you find a graffiti camp for girls?
Even in changing neighborhoods, new artworks continue to appear – bright, smart, vividly hued, soulful, boundary-pushing reflections of Oaktown pride.
In Adams Point near Whole Foods and Equator Coffee, for example, the lobby centerpiece of the new Faraday luxury condominium is a mural by local artist Greg "PNUT" Galinsky. The eye-catching artwork in red, green, and yellow features his iconic sleeping women and mirrors Oakland's diversity.

Immerse yourself in Oakland's art scene
Don't just believe us. Hit the streets and see for yourself.
The arty-est districts are Oakland's Uptown, Downtown, Golden Gate, Grand Lake, Chinatown, and Jack London. Check out:
Grand Avenue First Thursdays and Saturdays Art Walks - Spend your evening wandering through galleries and viewing fabulous artworks in every possible medium – paint, torn paper, photography, sculpture, video, animation, quilting... you name it. Get monthly details here.
Art Murmur's First Fridays Art Walk - Dozens of galleries in Uptown participate. It's a street party vibe as Telegraph Avenue, between Grand and 27th, fills with food trucks and live music. (Art Murmur also hosts more mellow Saturday Strolls.)

The Great Wall of Oakland is a 100′x100′ projection installation in Uptown on West Grand Avenue between Broadway and Valley Street. The Great Wall illuminates with large-scale projections of video art and film during First Fridays. A recent summer installation titled "On The Road" explored Oakland's changing landscapes through short documentaries and photography.
BART Art - The alleyway entrance to BART's 19th Street station was transformed into a illuminated installation of undulating blue, green, and silver waves titled "Shifting Topographies" by sculptor Dan Corson. Oakland's hills and the Bay's ripples served as inspirations. You'll find more art throughout the BART system – at least 50 works of sculpture, mosaic tiles, glass, photography, terrazzo, murals, and other media.

Oakland Museum of California doesn't just cover state history. It features artists who are making state history. Exhibits have included "The Art of Burning Man" and "Dorothea Lange: Photography as Activism." Find information about current exhibits here.
Creative Growth Art Center serves artists with developmental, intellectual, and physical disabilities by providing a professional studio environment. The gallery is open to the public.

The Crucible - This widely recognized nonprofit art school and performance space in west Oakland offers more than 400 industrial arts classes, including youth empowerment programs. The Crucible also sponsors public artwork and provides scholarships. Learn more here.

Make your own art and stock up on supplies at Flax Art & Design. Lucky for us, Flax moved its main location in SF to Oakland's Uptown at 15th and MLK Drive, taking over a former indoor soccer arena. Flax also offers workshops and art jams.
Museum of Children's Arts is the place for creative family fun. The mission of the Museum of Children's Arts is making art education accessible to kids, schools, and families. The museum offers camps, workshops, and an open studio. It's new home is located in the lower level of Oakland City Center Plaza, Suite 49.
--
What's your favorite piece of public art in Oakland? Send your answers/photos to hello@abioproperties.com and we'll add it to our post! And if you want to talk about Oakland real estate in exciting districts like Uptown, Grand Lake, and Golden Gate, call us at 888.400.ABIO.