Do You Have Home Buyer Burnout? Don't Give Up! We Know a Secret…
Do You Have Home Buyer Burnout? Don't Give Up! We Know a Secret…
In this month's market update, we cover remedies for buyer burnout. Plus: April home sales in your East Bay city. 
This is a pep talk for home buyers.
In the immortal words of singer-songwriter Peter Gabriel: Don't give up. Please don't give up.
We understand it's not an easy time for hopeful buyers. Spring is a competitive real estate season during any year, but this year's housing market is on fire. News headlines are screaming about wild west conditions as homebuyers face the most cut-throat environment in decades thanks to pent-up demand and low inventory.
Bidding wars with 20-30 offers. Pushy pre-emptive, all-cash, non-contingent bids. Homes selling gun-slinger-fast. In April, homes in Albany sold within just nine (9!) days on average.  (Scroll down to see what else happened in the East Bay in April.)
Buyers are burning out and dropping out after losing multiple bidding wars. Would-be buyers who haven't even started shopping yet are putting their plans on indefinite hold.
We get the frustration and fear, yet…
Did you know you can turn other buyers' burnout to your advantage?
In our role as listing agents, we are hearing more and more buyer's agents say, "My client loves your house, but they are afraid of a bidding war." Too worried to bid, they don't make an offer.
That's right. We are seeing a decrease in the number of bids per home.
Instead of competing against 20 bids, a buyer might face only two.
Wondering if this is an anomaly, we compared notes with other East Bay agents, who confirmed they are experiencing the same micro-trend.
That's why buyers should stay in the game.
"About a month ago, I represented a client who was selling an 8-acre ranch in Briones," says Abio agent Mariah Bradford. "I received multiple calls from buyers' agents and 32 requests for disclosure packets (a sign of serious interest). I expected multiple bids. The offer date comes and goes with ZERO offers! Agents said their buyers hesitated because they didn't want to be part of a stressful bidding war. So, they didn't even try. In the end, I was able to re-spark a buyer's interest, who now is in escrow to buy this gorgeous property AT LIST PRICE!"
Similarly, a hot property Mariah represented in Martinez attracted only two offers for the same reason: Interested buyers backed off because they were wary of a bidding war.
Abio co-founder and broker Cameron Platt says he recently worked with a seller whose Craftsman in Oakland's desirable Upper Dimond neighborhood attracted overwhelming initial interest – hundreds of showings and 45 requests for disclosure packets. The 3-bed, 2-bath cutie was listed at $950,000 – "teaser" pricing to get the bids rolling in.
But shockingly, no offers materialized. When Cameron realized that buyers were scared off by the prospect of a bidding war, he and the seller changed tactics. They relisted the house at a "transparent" price of $1.2 million.
A buyer emerged within one hour to make a non-contingent offer.
"The buyer was happy. The seller was happy. I'm happy," Cameron says.
This doesn't happen with every listing, of course. The market is still sizzling, and plenty of homes are still pulling 20+ offers.
Our advice: Since you can't predict whether you are entering a multiple bid situation, don't give up before getting started. Practice patience, persistence, and positivity.
We know today's buyers have a lot of questions, and we are happy to answer them all. Get in touch at 888-400-ABIO (2246) or hello@abioproperties.com.
Meanwhile, scroll down to see what else happened with East Bay home sales in April...
Alameda County Home Sales
The following data is for detached single-family homes. Sources: Bay East Assoc. of Realtors and Contra Costa Assoc. of Realtors.
Contra Costa County Home Sales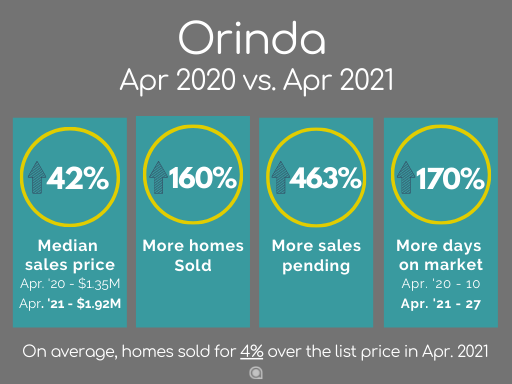 Don't see your city of interest here? Get in touch and we'll dig up those numbers for you. 888-400-ABIO (2246) or hello@abioproperties.com.