Signs of Things to Come: How Bay Area Home Prices Closed Out the Year
Signs of Things to Come: How Bay Area Home Prices Closed Out the Year
As a strange year wound down, the real estate market wound up, up up. Bay Area home prices continued their extraordinary rise in Alameda and Contra Costa counties in December.
Which got us wondering: Is this a sign of things to come in 2021?
A 1952 ranch-style "teardown" in Lafayette got 33 offers in December and sold for 95% over the asking price, for $1.75 million. A three-bedroom house with no yard in Oakland's Montclair hills attracted 20 over-asking bids in less than two weeks. A four-bedroom house in El Sobrante also garnered 20 offers within 12 days and went into contract for $120,000 over the list price.
During a pandemic. During a recession.
Does anyone else wonder what the heck 2021 has in store for Bay Area home prices and competition?
>> BE FIRST:  See the newest home listings here 🏠 
Any other year, December is a pretty quiet month. But this time, nearly every East Bay city we tracked saw spikes in median sales prices and decreases in the number of days homes sat on the market before selling (just four days on average in Albany!).
Low inventory, low interest rates, and a rush of relocations (made possible by remote work) led to high demand and higher competition.
For example, Berkeley's median sales price hit $1.4 million in December, 13% more than in December 2019. Lafayette's median price rose to nearly $1.8 million, 15% more expensive than the previous year.
Regardless of where they bought in December, most buyers paid over list price. In Alameda County, they paid on average 11% more. In Contra Costa County, they spent on average 5% more.
Least Expensive East Bay Cities, Cooler Condos
That's good news for home sellers. What about buyers with smaller budgets?
They were shopping in less expensive cities like San Leandro (median price of $785,000), Concord and Martinez (both $720,000) and Richmond ($620,000).
The condo market also wasn't as exuberant as the detached single-family housing market and remained another good choice for first-time buyers and down-sizers. For example, median sales prices dropped 25% in Berkeley, from an average of $930,000 in December 2019 to $700,000 in December 2020. Similarly, condo sales prices in San Leandro dropped 14% year-over-year from $536,000 to $462,000.
Condo prices held up stronger in Contra Costa County, with an average year-over-year increase of 10%.
Predictions for 2021 Bay Area Home Prices and Demand
What's ahead for the housing market in 2021?
All the forecasts we're seeing say demand for single-family homes will remain strong thanks to low interest rates, coronavirus vaccinations, and the anticipation that more people will return to work in 2021.
The California Association of REALTORS® 2021 market forecast predicts the number of existing single-family home sales statewide will increase 3.3%, and median home prices will edge up 1.3%.
Jordan Levine, C.A.R's chief economist, was quoted in the San Jose Mercury News saying the pandemic also may have created a long-term shift in the housing market; buyers are less concerned about daily commutes and more focused on bigger homes, wherever they may be.
Millennial Homebuyers in 2021
Another popular prediction: The millennials are coming.
Selma Hepp, CoreLogic deputy chief economist, told Forbes that "first-time homebuyers will remain a strong force in the market as the largest cohorts of millennials are turning 30 – critical household formation years. But also, the oldest millennials are increasingly contributing to the trade-up market."
Wanna move to Sacramento in 2021?
A new report from Realtor.com predicts which housing markets will be strongest in 2021 across the country, and Northern California dominates the top of the list. But the #1 might surprise you:
Sacramento.
The greater Sacramento area is looking at 17% projected sales growth, according to the forecast. That's partly because the state capital has become an affordable bedroom community for Silicon Valley tech workers. The median home price is about $554,000.
The SF-Oakland-Hayward region ranked in 64th place for projected growth: 1.3% projected sales growth and 8.4% price growth.
Whatever the Market Bears in 2021...
Just know that whatever the market bears in 2021, Abio Properties is here for you with our expertise and a no-B.S. ethic. We'll always tell it to you straight and help you succeed in this evolving, fast-paced environment!
Now, for more numbers...
What's happening in YOUR city?
The following data is for detached single-family homes. Sources: Bay East Assoc. of Realtors and Contra Costa Assoc. of Realtors. Compiled by Abio Associate Broker Diana Smith.
Alameda County Real Estate Market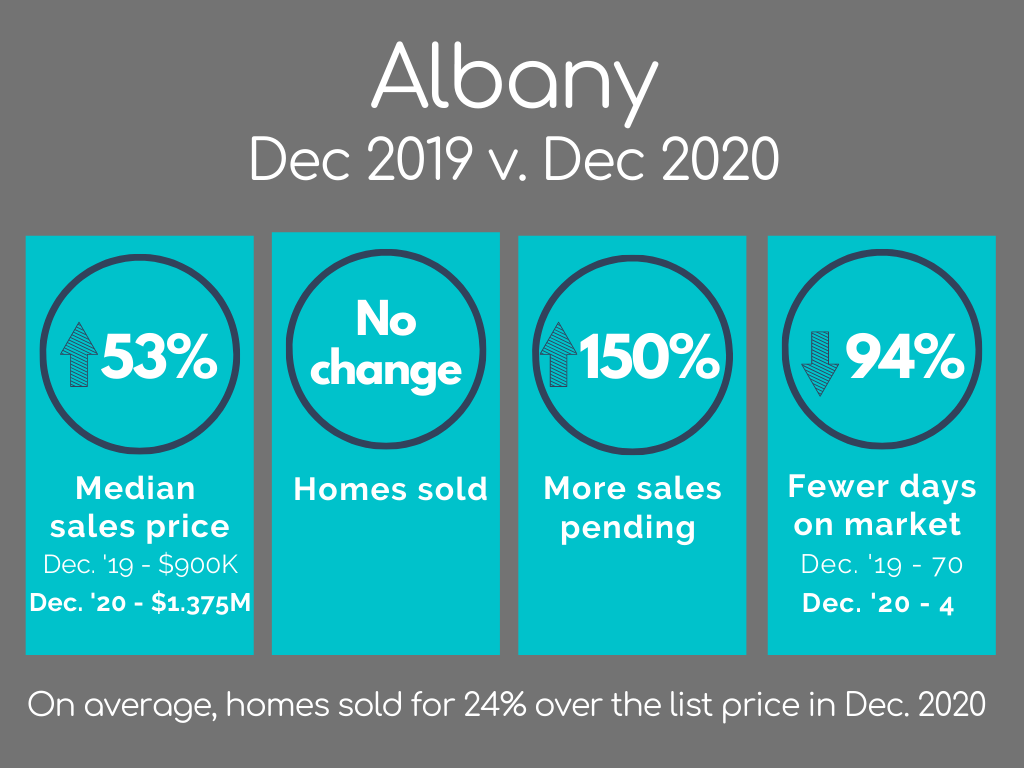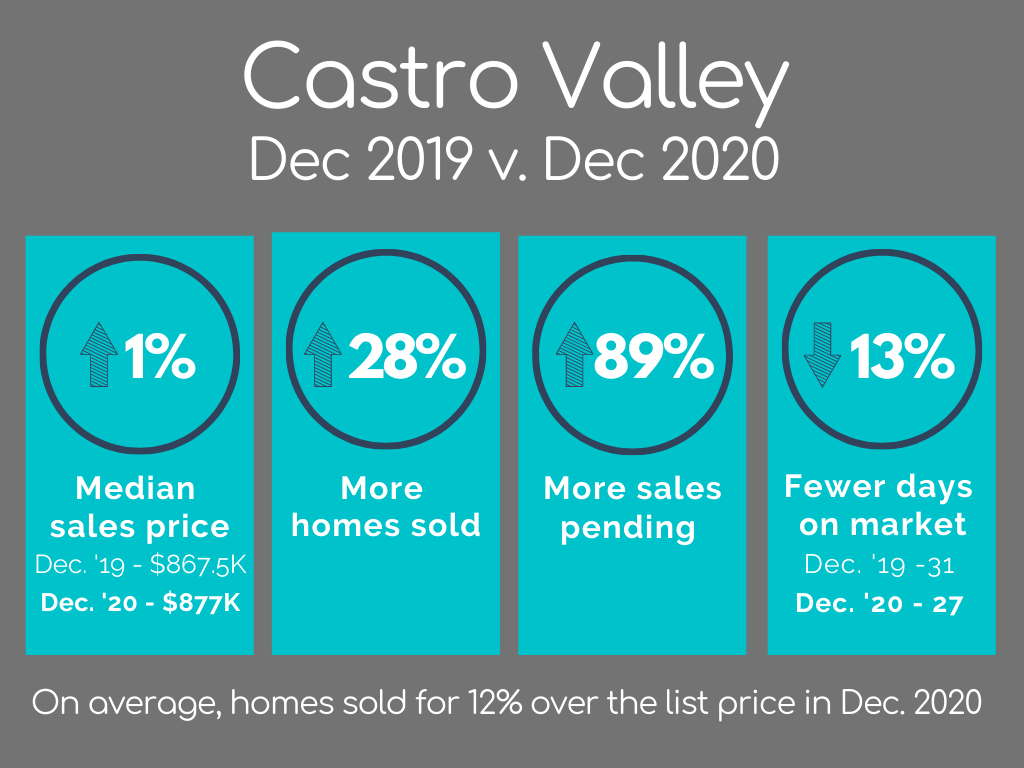 Contra County Real Estate Market
--
We are here for you in 2021! Reach out with your questions: 888-400-ABIO (2246) or hello@abioproperties.com.