Market Report: See How East Bay Home Sellers Scored in February
Market Report: See How East Bay Home Sellers Scored in February
In this month's market report, we show you why February was such an outstanding month for East Bay home sellers, answer the question "When's the perfect time to buy?", and tell you what it takes to become Larry Ellison's neighbor (got $110 million?).
Abio Properties' analysis of February home sales data for Alameda and Contra Costa counties confirmed our prediction that winter would be a fantastic time to sell a home.
(No one likes a know-it-all, but...we told you so!)
Insatiable buyer demand and few homes for sale pushed prices up, despite traditional thinking that wintertime is the worst time to put a house on the market.
Some stunning examples from February home sales in the East Bay:
Lafayette: The median price of a detached single-family home shot up to $2.8 million, a 58% increase year-over-year. Homes flew off the market in 12 days on average.
Castro Valley: The median price hit $1.4 million, a 44% increase from the previous February. Homes sold within eight days on average.
Richmond: This traditionally affordable city saw prices jump 33% year-over-year to $770,000 (which is still a bargain by Bay Area standards).
Berkeley: Because of heavy competition, buyers who wanted to win a home found themselves bidding significantly over original list prices. Homes sold for 31% over asking on average! The median sales price hit $1.65 million.
March promises to be just as exciting for sellers. For example, an Abio Properties client recently listed a modest Oakland bungalow for $698,000 and attracted 16 offers within a few days. We'll share the final sales price when it closes, but we guarantee it's way over asking.
Curious about sales in your city in February? Scroll to the bottom of this post for more East Bay market data.
When's the perfect time to buy a house?
With prices still on the rise, buyers constantly ask us if they should wait.
We read this excellent piece in The Atlantic that asked national housing experts the same question. Their answer? The perfect moment isn't coming anytime soon, but that shouldn't stop you.
Quoting Chris Herbert, the managing director of Harvard's Joint Center for Housing Studies:
"You ought to be making this as a housing decision and not an investment decision," he said. If you're buying a house, he advised, it should be because you want to live in it for at least five years, and ideally many more – which also will mean that even if prices fluctuate, you have a better chance of your investment appreciating over time. "The longer you stay in the house, the [less] your timing in this particular house-price cycle [will] matter," he said.
Jenny Schuetz, a senior fellow at the Brookings Institution, told The Atlantic:
"There's not going to be an optimal point when prices dip and you can jump in" …What's more important is whether you personally are in the financial position to buy a home. If you are, now seems as fine a time as a year from now to do so.
From our perspective in the Bay Area, we advise buyers who are on the fence to set their sights on springtime. More homes are coming on the market now, which should ease (at least slightly) the ultra-competitive environment.
If you want more advice on whether to buy or sell right now, get in touch. We'll always tell it to you straight.

For lookie loos: Peek inside the Bay Area's most expensive listing
Want a peek inside the most expensive listing currently on the market in Woodside? Check out 890mountainhome.com.
Listed for $110 million, the newly built 7-bedroom 11-bathroom estate in Silicon Valley resembles an Italian Villa. Coming in at 18,871 sq. ft., it includes a main house, guest house, spa/salon building, office building, Dolby screening room, golf-simulator lounge, and a 6,000-bottle wine salon. Outside you'll find a 65-foot pool, spa, kitchen, fire pit, 40+ olive trees and 100+ roses.
Move here and your multimillionaire neighbors will include Oracle co-founder Larry Ellison.
---
What's been happening in your city?
The following sales data is for detached single-family homes. Sources: Bay East Assoc. of Realtors and Contra Costa Assoc. of Realtors.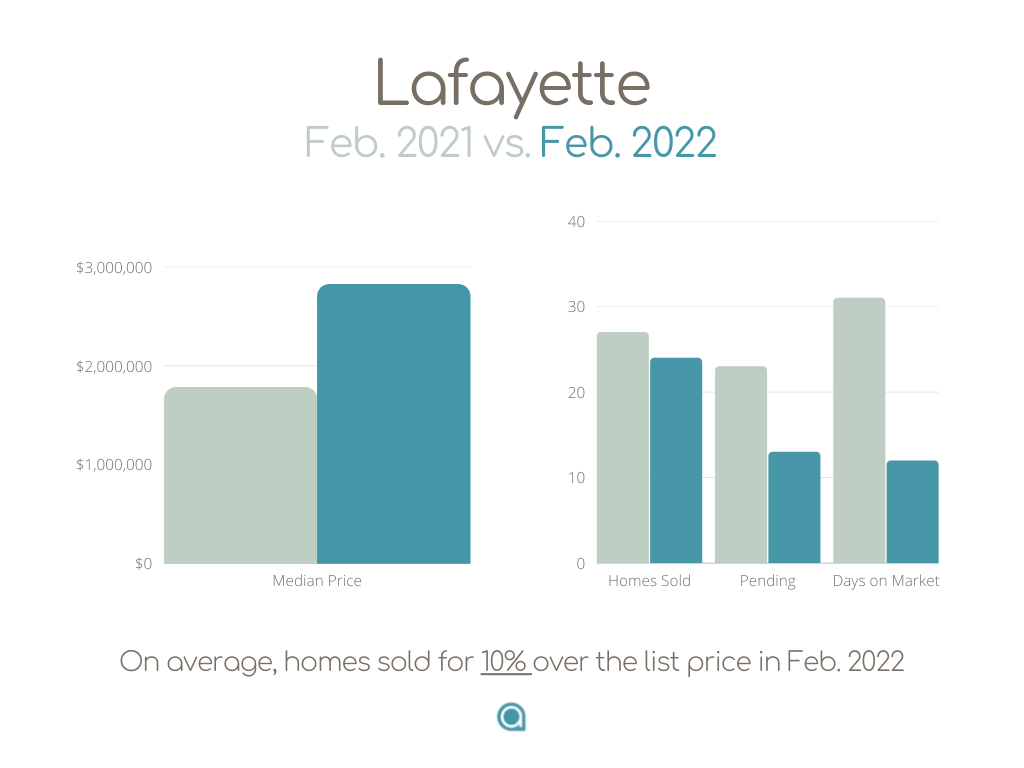 Don't see your city of interest here? Get in touch, and we'll dig up those numbers for you. 888-400-ABIO (2246) or hello@abioproperties.com.