Fall Real Estate Market Report: 7 Things To Be Thankful For
Fall Real Estate Market Report: 7 Things To Be Thankful For
In honor of Thanksgiving, this month's housing market report is dedicated to the things we're most grateful for in the current real estate climate. Despite some gloomy economic headlines, there are many opportunities here in the East Bay right now. And we are so very thankful!
1. Mortgage rates dropped
In the largest weekly drop since 1981, mortgage rates plummeted in mid-November following reports that inflation may finally be easing. (Not that we could tell from our recent trip to the grocery store for Thanksgiving dinner fixings.) The 30-year fixed-rate mortgage averaged 6.61% during the week of Nov. 17, down from 7.08% the prior week, according to Freddie Mac. This encouraging tumble might signify that rates, which have been climbing since last spring, peaked earlier than expected, says Abio Broker Cameron Platt. Market watchers previously predicted rates would keep rising through March or April 2023.
2. Buyers still gonna buy
With pent-up demand for homes, which are in limited supply, there's no shortage of eager buyers in the East Bay. Sure, it might take a little longer to sell your home than it did six months ago. And it might not sell for a jaw-dropping over-asking price like it did last year. But it will sell, and you'll probably get multiple offers. Buyers are circling! Abio co-founder Linnette Edwards reports that one of her Oakland listings recently attracted 100 walk-throughs.
3. Everyone gets to catch their breath
Gone are the heady days of 7-14 day sales. Now we're at a pace of about 20-30 days, which is more reasonable if you ask us real estate agents who are still recovering from the pandemic-era rush of transactions.
4. Transparent pricing
Transparent pricing – or what we call "right" pricing – is making a comeback. More sellers are listing their homes at the price they expect to get instead of setting an artificially low price to attract multiple competitive offers. Not everyone has embraced this shift to transparent pricing, but we hope the trend continues. We're all for truth in advertising!
5. Homes are selling for over list price
Even though the market has slowed, the average home is selling for over the list price in many major East Bay cities, including Oakland, Berkeley, and Lafayette. Bids may not be coming in waaaay over asking like they were six months or year ago. But many offers are surpassing the original asking price, as you'll see in the six-month snapshot below:
6. This market always surprises us
There's never a dull moment here in the East Bay housing market. Just when you think values are falling through the roof, you see something like the 29% median sale price increase in Moraga from October '21 to this October. The median also rose in Richmond by 6%. Outliers? Yes. October marked the fifth consecutive month that home values in the San Francisco metropolitan area – which includes Alameda, Contra Costa, Marin, San Francisco, and San Mateo counties – declined. Yet the region remains the most expensive among the country's 20 largest metro areas, according to a recent San Francisco Chronicle report. This unique market keeps us on our toes, and we don't hate that.
7. You
Finally, we are grateful for you, the Abio Properties clients. Our greatest joy is making the real estate experience as pain-free as possible while guiding clients through one of the most significant transactions of their lives. We thank you for your patience, your humor, and above all else, your trust.
Happy Thanksgiving!
Keep reading for city-by-city home sales data for October. The following graphs refer to detached single-family homes. Sources: Bay East Assoc. of Realtors and Contra Costa Assoc. of Realtors.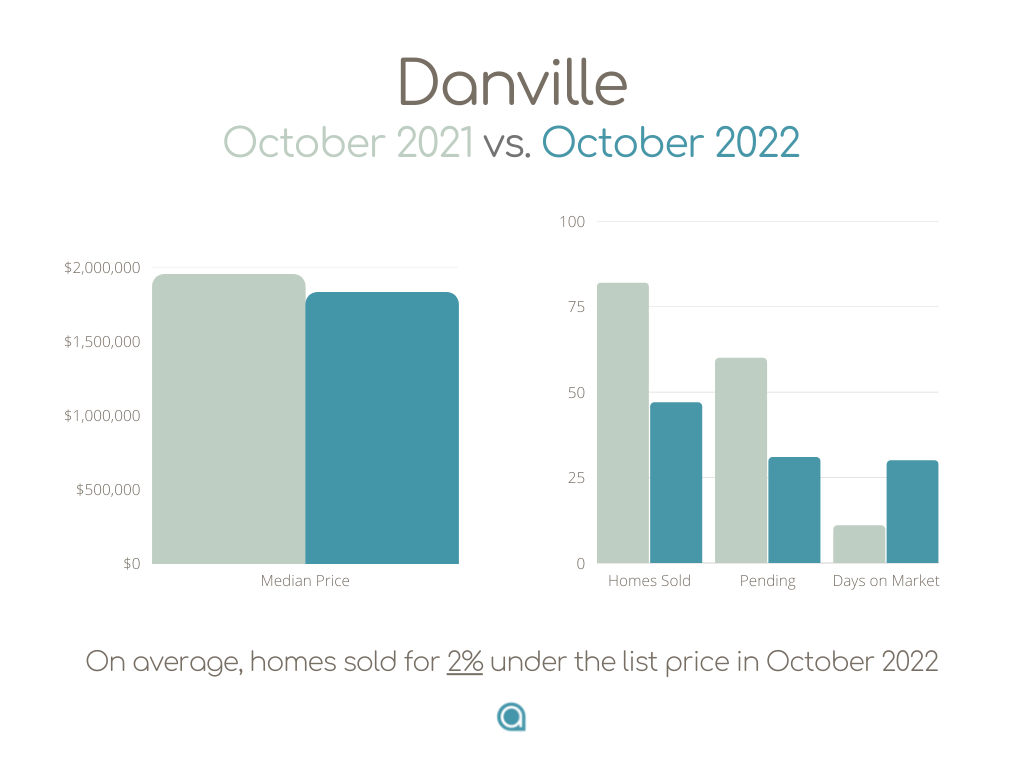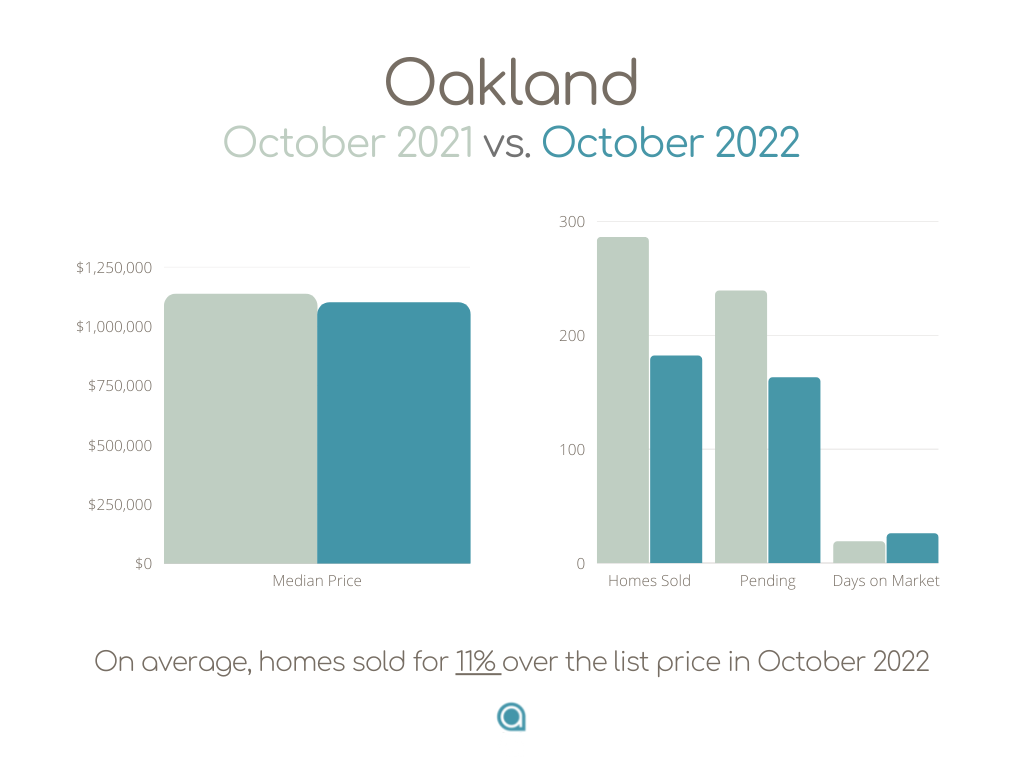 Don't see your city of interest here? Get in touch, and we'll dig up those numbers for you. 888-400-ABIO (2246) or hello@abioproperties.com.