Market Report: A Winter's Tale of a Hot Real Estate Market
Market Report: A Winter's Tale of a Hot Real Estate Market
In our latest market report, we tell you where and why median home prices are rocketing and why sellers are spending less energy prepping their homes for sale. Plus, we share tasty real estate news bites from around the Bay.
This market report is a winter's tale of a hot real estate market that won't cool no matter how chilly the weather gets outside.
The pandemic has erased the typical seasonal ebb and flow of the East Bay residential market.
Why? Top three reasons:
Folks with flexible remote work options are still moving around, including leaving the Bay Area and moving back after experimenting with a pandemic-era nomadic lifestyle.
There's pent-up demand for housing in a low-inventory market.
Interest rates are holding at near historic lows and empowering more buyers.
"This is just going to be one of those holiday seasons where we agents won't get a break," says Abio Properties agent Shannon Kelly.
Not that we're complaining! Here's what we are seeing out in the field:
All buyers want for Christmas is…more housing inventory
One typical seasonal shift we see, unfortunately for buyers, is fewer homes listed for sale now compared to early fall.
Just look at some of the most popular cities in Contra Costa County: Moraga had only seven active single-family homes for sale, Orinda had six, and Lafayette had 15 as of Dec. 8.
"There's wicked demand for such little supply," says Abio Properties agent Larry Jacobs.
By "wicked demand," he means tons of determined buyers, bidding wars with over-asking offers, and rising median sales prices throughout Alameda and Contra Costa counties.
It's a holly jolly seller's season
In November, the most recent sales data available, the median price for a detached single-family home in Albany rose 63% year-over-year, from $1.05 million to $1.71 million. In Richmond, the median rose 30%, from $577,500 to $750,000. And in Castro Valley, the median rose 29% from $1 million to $1.3 million.
That's why you won't hear us saying wait until spring to list your property for sale!
Baby, it's cold inside
With these favorable market conditions, some homeowners are putting less effort into their sales prep and are still able to attract offers that exceed the asking prices.
Larry, who is working with several wintertime buyers, says he definitely noticed more sellers are putting their homes on the market without bothering to fix or stage.
"Things are coming on with fresh coats of paint but rough," he says. "One home in Moraga had $30,000 in pest control issues, and I still expect it to sell for WELL over the asking price. We looked at a property in Orinda where the seller didn't even bother to get inspection reports."
Another recent example: A 5,500-square-foot Mediterranean-style estate in Moraga listed at nearly $3 million was barely staged and felt frosty inside (unheated for showings), yet it still received multiple offers.
Abio Properties agent Daniel Soto said he and his wife recently bid $1 million on a 1,226-square-foot fixer-upper in the Berkeley Hills listed at $749,000. The 1950s time capsule on Forest Lane needed immediate roof and ceiling repairs, kitchen updates, and more. But that didn't matter to other hungry buyers who outbid Daniel. The home sold for $1,105,000.
"We have put so many offers on places like that and keep getting outbid," Daniel said.
More news bites from around the Bay

Record second-home purchases fueled by Bay Area wealth
The Mercury News recently reported that sales of second homes hit record levels in 2021 as people flush with cash fully embraced remote work during COVID-19 and invested in real estate. Second-home sales in California leaped 54% in 2021 from pre-COVID levels, according to a survey by the California Association of Realtors.
Is it your turn to buy a vacation home? Reach out to Abio Properties because we have expert teams in Tahoe and at The Sea Ranch on the Sonoma Coast. Here's what's for sale right now:
❄️ Tahoe Donner homes for sale

⛵️ South Lake Tahoe homes for sale
Record $60M Tahoe home in Incline Village Goes into contract
Speaking of vacation destination homes... A lakefront Tahoe mansion that was listed for a record-breaking $60 million in July may have found a buyer. MLS records show the property is in contract. If sold, the property could break Lake Tahoe homes sales records.
The jaw-dropping 5.3-acre estate at 575 Lakeshore Blvd. includes a 12,679-square-foot home with 39-foot alder ceilings, a 3,800-square-foot guest house, a pier with a boat lift. The architecture and landscape design was inspired by Yosemite National Park's legendary Ahwanee Hotel. Gorgeous.
Sales of $5 million-plus homes spiked 142%
Sales of homes priced at $5 million and above in the San Francisco Bay Area have soared 142% this year compared to 2019, Mansion Global news reported.
The largest luxury markets are in Santa Clara and San Mateo counties. San Francisco comes in third, followed by Lake Tahoe (see aforementioned lakefront mansion).
Here in the East Bay, if you're dreaming of joining the $5 million and over club, ogle these estates for sale:
And now for some down-home real estate stats...
November home sales in YOUR city
The following is the most recent sales data available for detached single-family homes. Sources: Bay East Assoc. of Realtors and Contra Costa Assoc. of Realtors.
Alameda County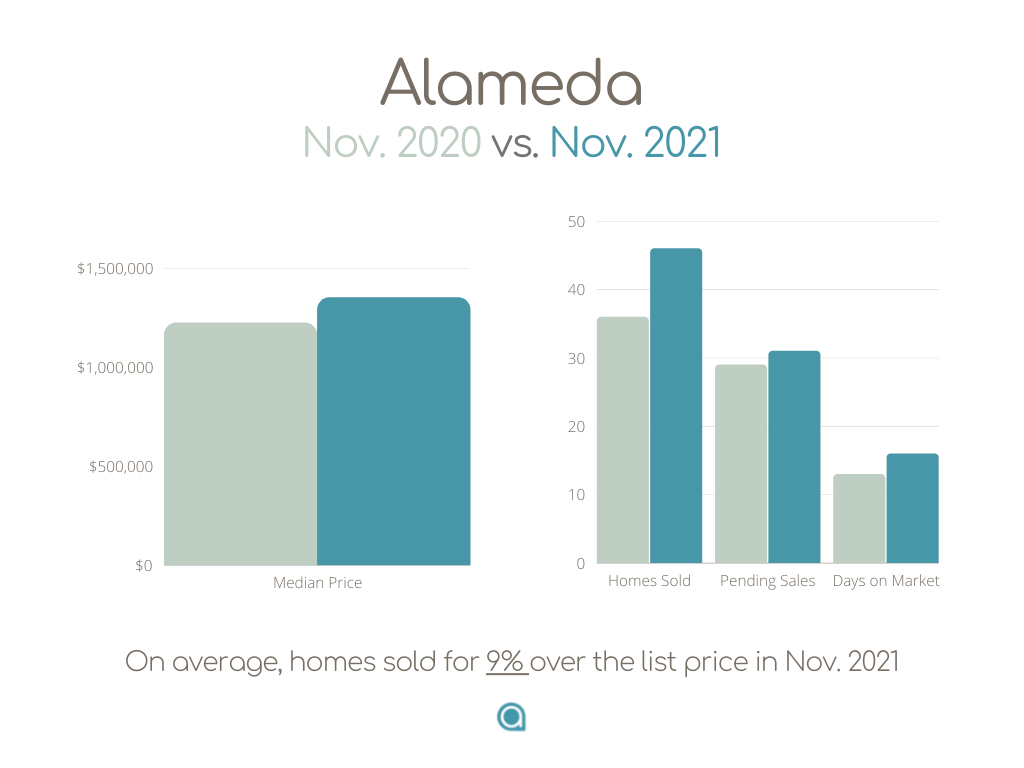 Contra Costa County
--
Want real estate market data for a city not listed here? Get in touch, and we'll dig up those numbers for you. 888-400-ABIO (2246) or hello@abioproperties.com.