Down Payment Assistance: Creative Financing Solutions to Help You Buy a Home
Down Payment Assistance: Creative Financing Solutions to Help You Buy a Home
Let's face it. Not everyone can be the traditionally perfect candidate for a standard 30-year fixed home loan. Some buyers, especially first-timers, need down payment assistance and creative financing to win their Bay Area dream home.
Maybe you're a buyer who doesn't have enough cash for the standard 20% down payment and closing costs. Perhaps you have a less-than-perfect credit score...
At least take comfort in knowing you are not alone.
Nearly 70% of Americans have less than $1,000 in their savings accounts, according to a 2019 GOBankingRates survey. A 2020 home buyer survey by NerdWallet found that nearly 40% of respondents said their main hindrance to homeownership was not having enough money for a down payment.
>> BE FIRST:  See the newest home listings here 🏠 
Here in the Bay Area, the median down payment required to buy a home is about $243,000, according to ATTOM Data Solutions. That makes our region the most expensive in the nation when it comes to down payments. (No surprise, right?) Los Angeles comes in second place with a $154,000 median down payment.
Fortunately, innovative lenders with alternative loans are changing the home buying experience so stressed-out buyers don't have to tap retirement accounts (potentially risky), borrow from family (potentially awkward), or sell organs for cash (um, potentially deadly).
And if you are one of society's most valued but underpaid public servants, including teachers and military vets, there are targeted loans just for you. Read on to learn about specific down payment assistance programs and creative financing solutions.
First, a primer…
How does down payment assistance work?
Down payment assistance programs provide grants and low- or no-interest loans to qualifying homebuyers. Eligibility can depend on your income, cost of the home you are buying, and where it is.
More than 2,000 programs are available across the nation and offered by city, county, state, and federal governments as well as nonprofits and private lenders. To narrow down your local prospects, start by Googling "down payment assistance in California" and "down payment assistance in (City Name)."
Has COVID-19 negatively impacted down payment assistance programs?
Not from what we see, which is an influx of new and revamped programs.
In October, for example, the City of Pleasanton modified its down payment assistance program for first-time homebuyers by increasing the maximum loan amount from $20,000 to $100,000, restructuring the DPA loan to a deferred payment loan, and adopting a shared appreciation loan. The program helps low- (80% area median income) and moderate-income (120% area median income) households.
Why such a big change? The city council acknowledged that the previous max loan of $20,000 is insufficient when today's Pleasanton buyer needs about $260,000 for a 20% down payment on a median-priced single-family detached home.
Here's another example of additional help offered to homebuyers during these challenging times: In December, Wells Fargo launched the NeighborhoodLIFT program for residents of six Bay Area counties. The $9.5 million project provides $25,000 in down payment assistance to 350 eligible homebuyers who earn 80% or less than the median household income in their respective county.
What kind of help can first-time home buyers expect from the new Biden administration?
On the campaign trail, now-President Joe Biden focused on affordability and proposed a $15,000 first-time homebuyer tax credit, which basically would serve as down payment assistance. The money would be advanced to buyers at closing instead of making them wait until they filed their tax returns.
Biden's plan also would expand housing benefits for first-responders, public school educators, and other public and national service workers who commit to living in impoverished communities or who work in expensive neighborhoods. He'd extend the existing federal Good Neighbor Next Door program, including additional down payment assistance and access to low-interest loans to buyers who will rehabilitate a home in a struggling community.
It's early days in the Biden administration; stay tuned and we'll let you know if these proposals get implemented.
Examples of current programs
MyHome Assistance is a "silent second" loan offered by the California Housing Finance Agency (CalHFA) for first-time buyers. It's a deferred-payment junior loan of up to 3.5% of the purchase price or appraised value, whichever is less, for down payment and closing costs. This program must be combined with a CalHFA first mortgage loan. To qualify, CalHFA borrowers must complete homebuyer education counseling and meet income and sales price limits.
Chenoa Fund is a down payment assistance program provided through CBC Mortgage Agency, one of nine tribally owned enterprises of the Cedar Band Corporation. (Cedar is a band of the Paiute Indian Tribe of Utah.) It's for buyers who qualify for a Federal Housing Administration (FHA) mortgage loan.
The Chenoa Fund helps FHA borrowers cover the required 3.5% down payment. There are no restrictions on property location, income, or previous ownership. Credit scores can be as low as 620. And no homebuyer classes are required. If your income is less than 115% of your area's median income, the loan turns into a grant if you pay your first-mortgage payments on time.
Physician Mortgage Loans - New doctors, dentists, and even veterinarians have plenty of earning potential, but they often start their careers with little savings and heavy student loan debt. Physician mortgage lenders bank on the borrower's income potential and relax certain conventional loan requirements, like having a low debt-to-income ratio.
This program requires little or no money down and doesn't require the borrower to buy private mortgage insurance. Medical residents, licensed medical doctors, optometrists, osteopaths, ophthalmologists, podiatrists, dentists, and veterinarians all qualify -- usually if they graduated within the past three years. Most of these loans are capped at $1 million, according to Realtor.com. Proof of employment or a contract for future employment and a credit score of at least 680 are required.
Good Neighbor Next Door for public servants - This U.S. Department of Housing and Urban Development program is a deal for K-12 teachers, law enforcement officers, firefighters, and EMTs who often struggle to afford homes in the communities where they work.
Good Neighbor Next Door offers up to 50% off the list price on HUD foreclosure homes in a "revitalization area" (determined by area household income). Qualifying buyers must agree to live in the home for at least 36 months. You can find listings for your region here.
Teacher Next Door - Another HUD program, just for K-12 teachers. While it's not a lending program, it is a resource that helps match educators with the best mortgage program, grant, or down payment assistance available.
Details from the HUD website: "For home purchases, there are many different federal, state and local programs available to teachers, including the HUD Good Neighbor Next Door Program, the State Housing Initiative Program (SHIP), Keystone Challenge Fund, USDA Rural Program and other specific programs available through HUD, FHA, VA, USDA, Fannie Mae, and other local agencies. In addition, Teacher Next Door offers private money grants ."
A Teacher Next Door agent also helps an educator locate the right home and negotiate the lowest price possible, handling all of the purchase, finance, and closing paperwork.
POPPY Loan - "Proud Ownership Purchase Program for You" was created in 2015 by the San Francisco Federal Credit Union to be a game-changer for longtime renters struggling to enter an expensive housing market. It's a zero down payment loan for anyone who works in San Francisco or San Mateo County and wants to buy a home in any of the nine Bay Area counties. The credit union will finance up to 100% of the purchase price or appraised value, whichever is less.
POPPY offers an adjustable-rate mortgage, which means the interest rate and monthly payment are fixed for the first five years of the 30-year loan and adjusts annually thereafter. The buyer is responsible for closing costs and loan origination fees. No private mortgage insurance is required, which otherwise could cost as much as $200-$300 a month on a high-end home.
VA Loan - Most active military, veterans, reservists, and National Guard and surviving spouses are eligible to apply for loans backed by the U.S. Department of Veterans Affairs.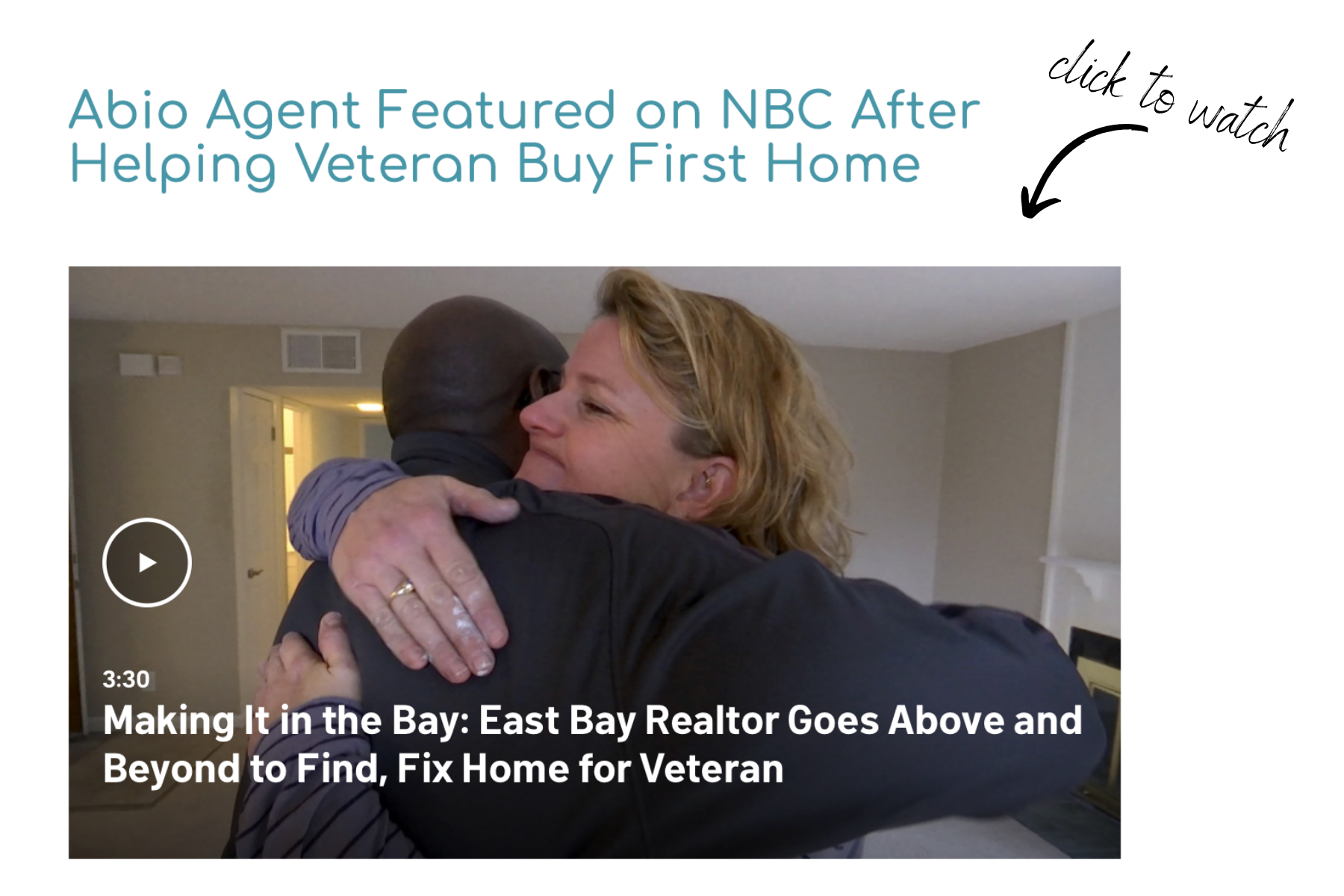 The VA loan is an amazing opportunity for qualified borrowers, who can receive 100%  financing. No private mortgage insurance is required. Credit score requirements are lower than conventional loans. VA loans aren't restricted to first-time buyers. And starting in 2020, the VA lifted caps on the size of a loan a veteran can get with no money down. (Note that the lender may still issue a cap and deny a large loan.)
"It's absolutely the best loan on the planet," says John McDade, a nationally-recognized Veterans Affairs lending specialist who has helped some of our clients.
Abio Properties Realtor Vikki Bearman, who came to real estate after a career in lending, is an enthusiastic fan of the program. "Every single time I meet with a buyer, the first question I ask them is 'Are you a veteran?'" she says.
Unfortunately, the VA loan is underutilized. Because of old problems and current misconceptions, only 10% of people who are eligible for a VA loan use it, according to John. Although the VA loan process was once criticized as difficult and slow, the VA has streamlined and improved the program, and more upgrades are coming, he says.
Vikki has seen the power of VA loans first hand. Around 2013, she worked with the first same-sex married couple to qualify for this VA benefit, which previously was denied to couples like them because same-sex marriage was not legally recognized. The couple's home buying success in Concord was emotional for everyone involved.
"There was not a dry eye in the house" on the day they finalized the sale, Vikki remembers.
First-time homebuyer programs offered by local governments
Several cities and counties offer help for low- and moderate-income home buyers. Some examples:
Concord has a down payment assistance program, which the nonprofit Hello Housing administers.
Walnut Creek offers interest-free equity share loans to qualifying buyers.
Alameda County's AC Boost offers down payment assistance to middle-income, first-time homebuyers who live in, work in, or have been displaced from Alameda County. Borrow up to $150,000 in the form of a shared appreciation down payment assistance loan. No payments are due during the term of the loan, making your mortgage payment affordable. It's also administered by Hello Housing.
Contra Costa County offers up to $38,000 in a "silent" down payment assistance loan for low-income households purchasing in Contra Costa. Silent means you never make a payment on this loan for as long as you live in the house. It's available thanks to the state's CalHome program – grants to local public agencies and nonprofit developers to help first-time homebuyers.
Contra Costa County Mortgage Credit Certificate Program - The MCC Program provides qualified first-time homebuyers with a federal income tax credit. By reducing the borrower's federal tax liability, the tax credit essentially provides additional income to use for mortgage payments. The max tax credit available is equal to 20% of the annual interest paid on the borrower's mortgage.
The homebuyer works with any mortgage lender on the county's approved lender list and applies for an MCC and a mortgage loan at the same time.
Vallejo offers down payment assistance loans up to $40,000 for households with low incomes purchasing their first home in Vallejo.
Even more creative financing solutions
Ask your financial advisor whether one of these might be right for you:
Cash-for-Equity - A handful of relatively new shared-equity lenders will help fund your down payment in exchange for a stake in your house. San Francisco-based Unison, for example, will provide up to half of your down payment funds. Unison calls it a "co-investment," not a loan. When you sell, Unison will share in the changing value of your property. If the home value increases, Unison takes a portion of the gain, and if the value decreases, Unison takes part of the loss. To qualify, borrowers need good credit, qualify for a standard mortgage, and afford at least a 10% down payment. The catch: If the homeowners haven't sold the property after 30 years, they're obligated to get an appraisal and cash Unison out.
Pledged Asset Programs - Some brokerages allow borrowers to leverage their stocks, bonds, and mutual funds to buy a home. Vikki, Our resident expert, bought four homes this way.
"Why is this a phenomenal way to borrow? It is phenomenal because we have so many people in our area who are holding a lot of stocks," she says.
How it works: Borrowers pledge a large portion of their assets (barring 401k and IRAs) as collateral to a lender. For the privilege of warehousing your assets, the lender gives you 100% financing. As long as the stock market holds up, your assets will continue to grow under this umbrella, and so will your new home asset. The lender will release your pledge account once the mortgage is paid down to an amount set by your lender (around 70-80% in many cases). If your assets earned excess capital during that time, that's yours, too. This is a bull-market strategy.
The risk: Stocks could tank, and you might need to add additional securities to the account, or the lender can sell the account and pay down the loan to protect what would have been your down payment.
Financial brokerages with pledged asset programs include Merrill Lynch and Charles Schwab.
Parents also can pledge assets to help their children buy a home (up to 100% financing). They maintain control of their securities and don't have to worry about gift tax implications. This is a great way to help kids get into their first home.
Good luck and happy house (er, loan) hunting!
These are just a few of the many programs available to help boost your chances of buying a home. It's easy to get overwhelmed by all the options and varying eligibility requirements, so your best bet is finding a trusted financial advisor who can help guide you. Good luck!
Keep reading:
--
Did you get creative with your financing? Tell us how you did it! Contact Abio Properties at 888.400.ABIO (2246) or hello@abioproperties.com. We can share additional creative financing resources and a list of preferred lenders.